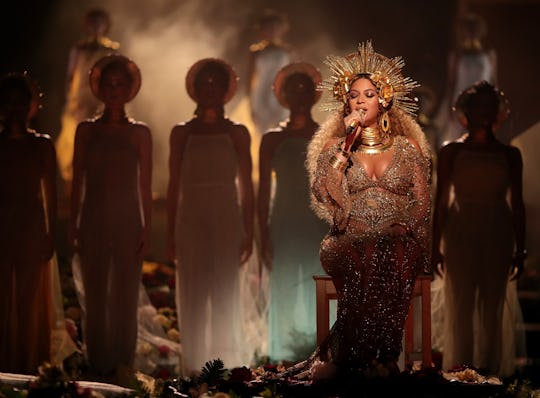 Christopher Polk/Getty Images Entertainment/Getty Images
When The Most Famous Among Us Are In Danger Of Dying During Childbirth, Abortion Rights Are More Important Than Ever
Vogue's September issue this year was different. In openly discussing her emergency c-section, and her twins' weeks in the NICU, Beyonce illuminated a growing problem in the United States: regardless of income or education, Black women face high rates of pregnancy complications and a maternal mortality rate three or four times higher than that for white women, per the CDC. This is at a time when their reproductive rights are being targeted with impunity. The most famous, the most affluent, and the most powerful Black women among us are still in danger of dying during childbirth, which is why access to quality reproductive health care — including abortion — is vital. The dangers of pregnancy are very real, and no one is immune.
In the cover story, which was written in her own words, Beyoncé detailed pregnancy complications that ultimately culminated in a Caesarian. "I was swollen from toxemia and had been on bed rest for over a month," she wrote. "My health and my babies' health were in danger, so I had an emergency c-section. We spent many weeks in the NICU."
She's arguably the most powerful artist in the world, with a reported sole net worth of $355 million and a staggering $1.25 billion when coupled with her husband, JAY-Z's, fortune, according to Forbes, and yet her experience mirrors what many Black women endure when pregnant and giving birth.
Anti-choice extremists and the legislations they champion limit the bodily autonomy and reproductive choices of Black women, propelling them towards a health care system that often dismisses their pain, their needs, and their lives.
"I am so happy that Beyoncé gave some light to preeclampsia, which is a huge issue among Black women," Monifa Bandele, Vice President of Maternal Justice Programs at MomsRising, tells Romper. "Many women go into being pregnant not knowing that they have high blood pressure until they're in the late stages of their pregnancy, and it really puts them in danger because they don't get the care they should."
According to a 2017 report by the Agency for Healthcare Research and Quality, the rate of preeclampsia and eclampsia for black women is 61 percent higher than it is for white women. And the disparity in maternal mortality between Black and white women actually worsens in certain metropolitan areas, according to the CDC. For example, a Black woman living in New York City is 12 times more likely to die in labor than a white woman.
At the same time, Black women are also being unfairly targeted by anti-choice groups and are disproportionately affected by anti-abortion legislation that limits or essentially erases their ability to make their own reproductive healthcare decisions. A 2015 report by Broadly writer Gabby Bess provided a detailed account of the anti-choice movement's efforts to target Black communities in an attempt to persuade Black women who might seek abortion services to carry their unwanted pregnancies to term:
In February of 2010, 65 billboards went up in Atlanta stating, "Black children are an endangered species." Next year, in the spring of 2011, Life Always, a Dallas-based anti-abortion group, rolled out a campaign specifically targeting black neighborhoods. In New York and Texas, the ads featured an unsmiling girl with a bow in her hair. The billboard read, "The most dangerous place for an African American is in the womb." Then the billboards went up over the South Side of Chicago. This time they featured an image of President Barack Obama and bore the slogan, "Every 21 minutes, our next possible leader is aborted."
Under the guise of caring about the life and wellbeing of Black mothers and their future children, anti-choice extremists and the legislations they champion limit the bodily autonomy and reproductive choices of Black women, propelling them towards a health care system that often dismisses their pain, their needs, and their lives. According to NPR, a black woman is 22 percent more likely to die from heart disease, 71 percent more likely to die from cervical cancer, and 243 percent more likely to die from pregnancy or labor an delivery, than a white woman.
"Black women face racism throughout the healthcare delivery system," Bandele says. "Whether it's access to care, whether it's access to quality care, or whether it's being believed when they're saying they're in pain or something is wrong." In 2017, a reported 33 percent of black women said they personally been discriminated against when visiting a doctor or health clinic, because of their race, and 21 percent said they avoid going to a doctor or seeking health care as a result of discrimination. "We really have a hard time accessing quality care and getting empathy from our caregivers, which of course causes us an increased amount of stress," Bandele says. "Who wants to even keep going to get health care if you're not being treated well and when you're constantly fighting for quality care that sometimes you still don't receive?"
Fighting to be believed and fighting for necessary care is exactly what Serena Williams had to do after the birth of her daughter, Alexis. In an op-ed in CNN, Williams chronicled her harrowing compilations, writing:
It began with pulmonary embolism, which is a condition in which one or more arteries in the lungs becomes blocked by a blood clot. Because of my medical history with this problem, I live in fear of this situation. So when I fell short of breath, I didn't wait a second to alert the nurses. This sparked a slew of health complications that I am lucky to have survived. First my c-section wound popped open due to the intense coughing I endured as a result of the embolism. I returned to surgery, where the doctors found a large hematoma, a swelling of clotted blood, in my abdomen. And then I returned to the operating room for a procedure that prevents clots from traveling to my lungs. When I finally made it home to my family, I had to spend the first six weeks of motherhood in bed.
"Serena basically had to demand a CT scan, and not everyone can do that, postpartum," Bandele says. "She was someone of great means and of course the greatest athlete of all time, so she was able to be like, 'Yes, I just had a baby give me a CT scan,' and saved her own life, because they were insisting she just go lay down."
Kira Johnson, who gave birth to her second child via c-section in what her husband, Charles Johnson, described to CBS News as "one of the best hospitals in California," wasn't so lucky. Shortly after Kira gave birth, her husband noticed that her catheter was turning pink. The presiding doctor ordered a CT scan, but Kira — a Black woman — was never taken for one, reported CBS. As Kira's lethargy continued, Johnson continued to try to advocate for her. She eventually went back into surgery, where doctors discovered three-and-a-half liters of blood in her abdomen. Her heart stopped, and Kira died.
"This isn't just bias that you experience at the store when you're followed around," Bandele says. "Or even serious stuff like housing discrimination that can impact the wealth that you earn through home ownership. When you experience bias in the heath care system, and especially when you're in the vulnerable state of being pregnant, it can cost you your life."
Still, anti-choice extremists are hellbent on targeting Black communities and passing laws that limit Black women's access to reproductive care. A woman is 14 times more likely to die during or after childbirth than she is to die from complications of an abortion, but fake women's health centers (also known as crisis pregnancy centers) outnumber comprehensive reproductive health clinics in the United States and target low-income communities and women of color. According to the Center for American Progress, anti-choice advocates have championed decreased access to Medicaid, which women of color are disproportionately more likely to use as a form of insurance. And federal and state legislations that prohibit abortions based on the race or sex of a fetus have been used to target specific populations of women and certain pregnancy complications, according to the Guttmacher Institute. In other words, and under the guise of limiting so-called "sex- and race-selective abortions," doctors are allowed to scrutinize a patient's decision and, particular when a patient is a woman of color, argue that they can't be trusted with their own medical decisions.
This call for 'right to life' has actually put women's lives in danger, and disproportionately Black women.
The American Congress of Obstetricians and Gynecologists released a statement concerning these abortion reason bans in 2016, writing, "By forcing women to carry pregnancies to term, regardless of their reasons for needing an abortion, these bans will compel high-risk women to endanger their lives, increasing maternal mortality." And in many cases, according to the Guttmacher Institute, the bans encourage women to withhold information from their providers or choose not to seek abortion care at all.
It is this height of hypocrisy, Bandele says, that puts Black women's lives in danger, regardless of their socioeconomic status or education. "We've noticed in states like Texas, where the attacks on organizations like Planned Parenthood have come out of this 'right to life' cause, has actually been one of the triggers that has left Texas with a high maternal mortality rate," Bandele says.
"So this call for 'right to life' has actually put women's lives in danger, and disproportionately Black women who need access to community clinics and well visits and all the things that Planned Parenthood and similar types of clinics provide."
States with the highest number of abortion restrictions tend to have the worst women and children's health outcomes, according to a 2017 report by the Center for Reproductive Rights and Ibis Reproductive Health. But despite these reports, the anti-choice movement continues to pump enormous amounts of money into so-called "pro-life" campaigns and lobbying efforts. According to the Senate Office of Public Records, in 2017 Susan B. Anthony list spent $420,000 in lobbying efforts, while Right to Life spent a reported $110,000.
These anti-choice efforts also seem to be futile, according to Bandele. "It's easy to see through, which is why we see in surveys that Black women, regardless of the onslaught of propaganda, still remain mostly pro-choice and support bodily autonomy," she says.
"Even when people go to church, where the church says otherwise, Black church-goers still tend to be more pro-choice." Bandele says it's easy for Black mothers to notice the blatant insincerity with which their children are being treated. "I am a mom of two teenagers and I'm very clear about how the various systems that my children interact with value them as less-than," she says. "So for someone to tell me when I'm pregnant or thinking about motherhood that they're caring about my life or the life of my child... you almost have to laugh to keep yourself from crying."
The anti-choice movement might not be swaying any hearts and minds, but the anti-abortion laws the movement backs are putting Black women at risk. "Black women and Black girls are also more likely to have experienced sexual assault and abuse, both as children and as adults," Blandele says. "The situations through which we may become pregnant can have all kinds of context that can put our lives in danger, so it's so important for us to have total bodily autonomy."
In addition to unfettered access to safe, legal, affordable abortions, MomsRising is advocating for public health commissions and cities to hold hospitals with high rates of maternal infant deaths accountable, improved data collection and transparency to help state and federal governments better understand the maternal morality rate crisis, passage of the Preventing Maternal Deaths Act and Senator Cory Booker's Dignity for Incarcerated Women's Act, and for local and federal governments to take a deeper look at the biases held by doctors in hospitals.
"When bodily autonomy is taken away from you it puts you in jeopardy," Bandele says. "You're in a vulnerable position and up to the whims of the institutions that have decided they're going to make these decisions for you."