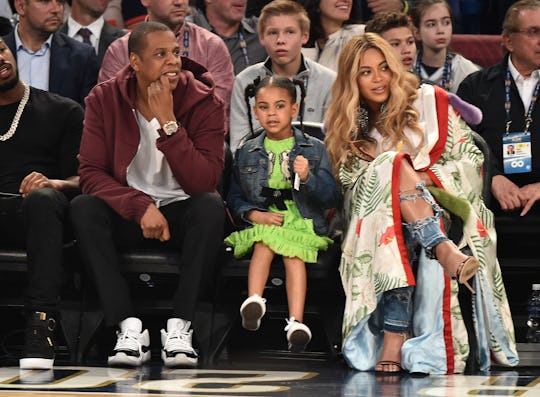 Theo Wargo/Getty Images Entertainment/Getty Images
Beyoncé Rocks Maternity Fashion In New Instagram Posts
Thank god for Beyoncé's second pregnancy. With the world's anticipation of Beyoncé and husband Jay Z's double bundle of joy is at an all time high (seriously, twins are so exciting), the singer has been more public with her newest pregnancy than ever before, sharing shots of her growing bump with fans and followers on the internet. During this pregnancy, Beyoncé has been frequently showing off her outfits, too — and Beyoncé's most recent bump Instagrams prove she's definitely maternity #FashionGoals.
For the past few weeks, Beyoncé has taken to her Instagram to share new photos of her bump, all dressed up. They're like weekly pregnancy updates you'd give to your mother — except instead of talking about cravings and side effects, Beyoncé just slays everyone with her impeccable pregnancy style and logs off. On Saturday, the soon-to-be mom of three posted a series of photos and a video compilation to her Instagram featuring a beautiful blue outfit she wore out during a night on the town with her husband.
Of course, the jewel-toned dress (by an as of yet unknown designer — hopefully Bey will divulge that soon) perfectly hugged the singer's every curve and showed off her bump in the best way possible. She topped off her look with a delicate necklace and perhaps the most amazing earrings I've ever seen: sparkling, dangly, purple, teal, diamond — you name it, those earrings had it.
This video and these photos are very similar to ones that Beyoncé has shared of her pregnancy in previous weeks. Prior to this weekend's post, the singer also treated fans to glimpses of her wearing a soft rose-colored trench coat, a black mini-dress, and a goddess-like green maxi gown. (Again, #goals.)
While Beyoncé might be comfortable showing off her maternity style, she has kept other elements of her pregnancy to herself. Other than announcing she was expecting twins on Feb. 1 and sharing outfit photos to her Instagram, Beyoncé has not yet revealed when she is due or how far along she is, which is understandable. But because of this, these maternity style photos are so special — who knows, they could be over sooner than you think.
Beyoncé definitely knows how to wear a dress and rock an outfit in general — and the fact that she's still killing it in the fashion game while simultaneously pregnant with twins is even more proof that, yeah, she's definitely royalty in her own right.