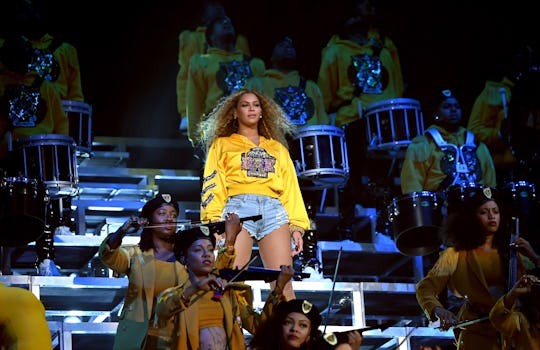 Larry Busacca/Getty Images Entertainment/Getty Images
Beyoncé's Coachella Performance Honored Her Kids In A Super Subtle, But Sweet, Way
It's a known fact that Beyoncé is "Queen Bey" and there are little to know doubts that she can do everything. From being a mom to her three kids — Blue Ivy, Rumi, and Sir Carter — to performing at one of the biggest music festivals in the United States, Coachella; Beyoncé somehow manages to do it all. But just because she is a big performer doesn't mean it all goes to her head — she still remembers that she is a mom. On Saturday night, Beyonce's Coachella performance honored her kids and it could not have been any sweeter for the mom of three.
Things could have gone much differently if it wasn't for Beyoncé getting pregnant with twins. Beyoncé was slated to headline at the 2017 Coachella Music Festival in Indio, California. But before she could hop on that stage in April, she made a very exciting announcement that February — that she was expecting twins with her husband, JAY-Z, according to TODAY. A few weeks later, however, Beyoncé announced that she had to back out of the festival due to "the advice of her doctors," according to The Hollywood Reporter.
But a lot has changed within the year and Beyoncé fulfilled her promise to return to the Coachella stage on Saturday, a little more than a year since that announcement. Before closing out the night and performing her final song of the evening, "Love On Top," Beyoncé reportedly thanked the audience for coming out to see her perform and dedicated the song and her Coachella set to her twins. "I was supposed to perform at Coachella before but I ended up getting pregnant...thank God," Beyoncé said, according to E! News.
Could that be any sweeter? "Love On Top" is a song with such a strong message about being with the ones you love and you can tell that Beyoncé feels that when it comes to her kids.
Another thing that made her performance honor her kids? The fact that this was Beyoncé's first performance since giving birth to her twins last June, according to Twitter users, and she absolutely killed it.
Sure, her tribute was a pretty subtle way to honor her twins, and she probably could have said more about her family and babies at home. But her message speaks volumes — you can tell Beyoncé is so grateful to have that year to have her babies, recover, and make her debut at Coachella as a headliner and a mom of three. Fans definitely took note of this, taking to Twitter to share their admiration for the artist.
This performance proves that nothing can stop Beyoncé now.
Her choice to sing "Love On Top" after talking about her pregnancy could be a deliberate song choice on Beyoncé's part (and not because that song is a crowd pleaser). After making the big announcement that she was pregnant with her first child in 2011 on the red carpet at the MTV Music Video Awards, Beyonce took to the VMA stage to perform immediately after. Her song of choice? "Love On Top," according to Complex. After this Coachella performance of "Love On Top," it's clear that this song has a special connection to her family.
Of course, there are other things worth talking about when it comes to Beyoncé's Coachella performance. During her two hour long performance she reunited with her former band, Destiny's Child, and even brought out her husband, JAY-Z, to perform with her for one of her songs, according to Billboard. But you really can't ignore Beyoncé's small mention of her twins or the fact that her performance was dedicated to them. Thank goodness Beyoncé took that time off to be with her family, because judging from her Coachella performance, it did her well. Queen Bey is back, y'all.