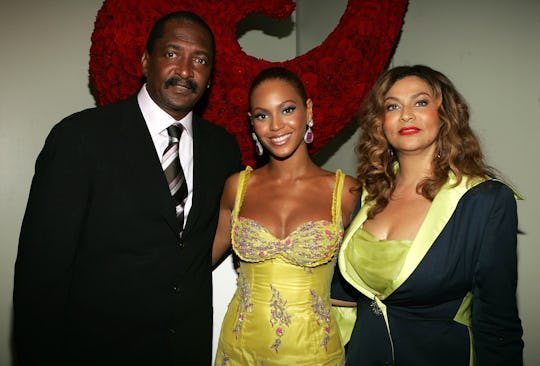 Frank Micelotta/Getty Images Entertainment/Getty Images
Beyonce's Dad Hints At Twins Due Date
Beyoncé's most recent pregnancy with twins has become a serious source of speculation. People are dying to know not only the gender of Beyoncé's babies but also when she is having them. On Friday, Beyoncé's dad hinted at the twins' due date, giving one little detail to put fans at ease.
During an interview with TMZ, Beyoncé's dad, Mathew Knowles, gave some pretty big information away. OK, so it isn't a big detail — but this is more information than anyone has have ever had before about Beyoncé's due date. When asked by TMZ if Beyoncé's due date is within the next two weeks or more than two weeks from now, Knowles confidently replied "more than two weeks from now." While Beyoncé's dad didn't necessarily let on to what month the twins might be born in, or how many weeks of pregnancy Beyoncé has left, he did make one thing clear — Beyoncé's due date is not during the month of May.
When Beyoncé announced she was expecting twins with husband rapper Jay Z back in February, she did not announce how far along she was, following in her tradition of keeping her private life private. But the anticipation for knowing when the twins will be born is killing fans.
When Beyoncé showed off her bump two weeks ago during a maternity photoshoot, many couldn't help but to marvel at the bump's growing size. Because of this, the speculation is strong. According to E! Beyoncé is reportedly in her third trimester of pregnancy, which means the babies are bound to be here soon. Especially since, according to Parenting, twins are usually born around 36 weeks of pregnancy, or 4 weeks before their expected due date. So just because Knowles says her due date is not within the next two weeks doesn't mean that the twins won't be here. It's all pure speculation at this point.
Just how valid is Knowles' information? In a recent interview, Knowles revealed that he is still very close to Beyoncé and her younger sister, Solange. "I communicate with them weekly," Knowles told FOX 26. "I would describe my relationship with my daughters as loving." Yet, according to Entertainment Tonight, Knowles found out about Beyoncé's second pregnancy, just like the rest of us.
One thing is definitely certain — Beyoncé's twins will certainly be here eventually. Knowles' information reveal just confirms the fact that the twins won't necessarily be here tomorrow. But Beyoncé fans can only hope that they'll be born sometime soon.