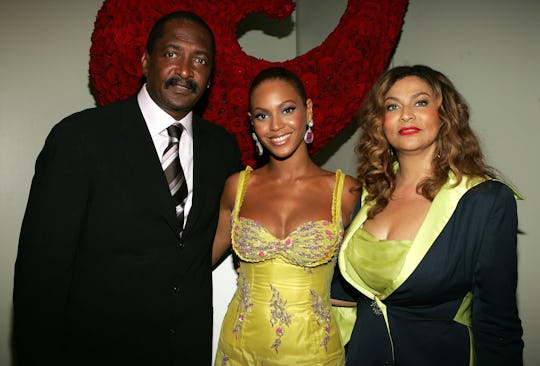 Frank Micelotta/Getty Images Entertainment/Getty Images
Beyonce's Dad Shares A Secret Related To The Twins
There is so much secrecy surrounding the reported birth of Beyoncé and JAY-Z's twins, I can't stand it. There are plenty of questions surrounding their names, their genders, and if they have actually, you know, been born yet. It's been a very frustrating past few weeks for fans of Queen Bey, who are anxiously awaiting some kind of announcement from Beyoncé. But never fear, Beyoncé's dad, Mathew Knowles, has indulged fans in something new pertaining to the twins. This past week, Beyoncé's dad shared a secret related to the twins' birth — and while it didn't confirm anything, it did reveal some pretty cool new information.
In a video shared to his social media accounts on the Fourth of July, Mathew made one pretty interesting declaration — that Beyoncé's twins are not the first twins in the Knowles family. Knowles revealed that having twins actually runs on Beyoncé's dad's side of the family. Knowles said in the video:
In the research that was done for my book, I was able to learn about my heritage, my family, and going back to my great, great grandmother. I was also learning that my grandmother, Hester, actually had brothers that we twins, Sidney Moore and Gitney Moore.
Knowles added, "You can see that twins run on my side of the family and Beyoncé should be proud of that."
Sure, Beyoncé should be proud knowing that twins run in her bloodline. It's also a super sweet and relatively unknown fact about Bey that fans can recall for the next time they're at a trivia night or for when they're trying to impress their Beyoncé obsessed friends. But most importantly, this could indicate that Beyoncé's pregnancy is related to her genetics.
Beyoncé's twins, are reportedly fraternal twins (or two separate eggs fertilized by two different sperm). As it turns out, genetics does have an influence on a mother's chances of having fraternal twins. According to Scientific American, a woman is more likely to have fraternal twins if they have had a female on either side of the family give birth to them. Therefore, given the information Knowles provided, Beyoncé's great great great grandmother did give birth to twins. This could have played a role in Beyoncé giving birth to twins decades later in 2017.
Knowles can't keep quiet about Beyoncé and her pregnancy, which is kind of a good thing. He has been the only person close to Beyoncé or from her family to say anything about the birth of the twins (he wished them a happy birthday days after Beyoncé reportedly gave birth). While this new info isn't anything super exciting, it is pretty cool. And at this point, I'll take any new information about Beyoncé and her twins that I can get.