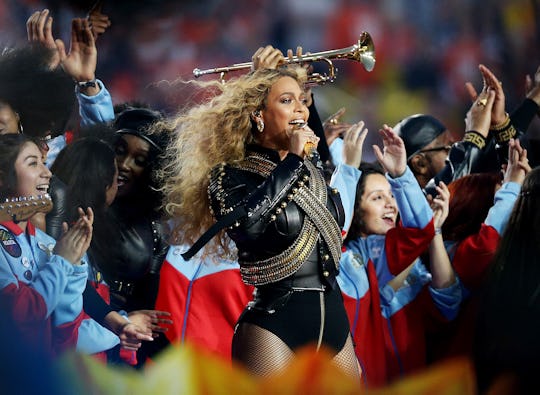 Patrick Smith/Getty Images
Beyonce's 'Formation' World Tour Announcement Shuts Down Her Website
As if her incredible halftime performance wasn't good enough, the post-halftime Formation World Tour announcement shut down Beyoncé's website. The singer's website was apparently shut down entirely during Sunday night's big Super Bowl game. Oops! Sometimes when you slay that hard, you even cut yourself a little bit. Apparently every human being saw the news and immediately headed over to Bey's site to buy tickets (because duh). Beyoncé on tour isn't something that happens all the time, so the announcement was a pretty big deal.
Tickets go on sale next week, but there's an Amex pre-sale before the general public can get its hands on them. According to Billboard, the tour will be comprised of 40 shows with an even split between North America and Europe. So it's more like a "half of the world" tour. As long as she comes to your town, right?
Bey will hit the United States and Canada through mid-June, and the tour's European leg will run through July. It's going to be epic, and anyone in on the news this weekend knew it.
In fact, fans knew it so well that the crush of web traffic shut down Beyoncé's official site for about half an hour total. When you go to Beyonce.com there's just a sad little error message about connecting to a server and refreshing your browser. Bah humbug. How long will we have to wait to find out when we need to take off work and find a sitter so we can get in formation with Beyoncé? The suspense is terrible.
Others may have previously tried to break the Internet with their magazine covers and album releases, but Beyonce actually did it with the announcement of her world tour. And she didn't stop there either — according to one Twitter user, the announcement broke the Live Nation ticket site as well.
At this rate, it could be days before it's back up to snag tix. Keep checking and cross those fingers.