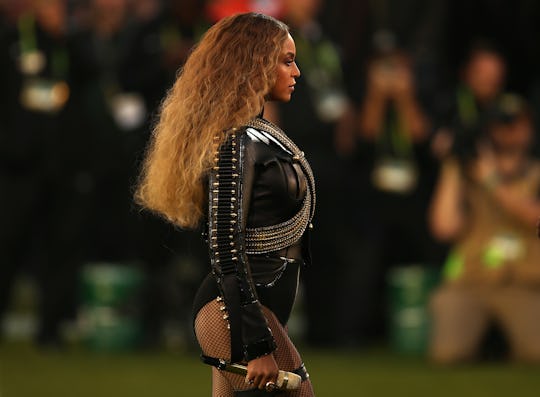 Matt Cowan/Getty Images Sport/Getty Images
Beyonce's "I Will Always Love You" Cover Puts Everyone Else's School Benefit To Shame — VIDEO
Besides being more stunning, richer, and more talented than the rest of us mere mortals, Beyoncé also has this motherhood deal on lock. Last Saturday night, Beyoncé covered "I Will Love You" at Blue Ivy's school at its annual gala (in addition to a medley of a few more of her greatest hits) and by all accounts, brought down the house. And in other news, I will never brag about my bake-sale cupcakes ever again.
Beyoncé showed up to perform for the faculty, staff, parents, and students of the Center for Early Education in LA as most moms do to these things, in a sparkly gold and black zebra printed mini dress and did a quickie, kid-friendly set featuring "Crazy in Love," "Halo," and the song Whitney Houston made a mega hit "I Will Always Love You." Her cover of the hit was so good that it brought me to tears. (And it'll do the same for you.) I guess "Formation," especially the bit about Red Lobster, wouldn't have been super appropriate for the grade-school set, but Bey still managed to show up with a stage full of her fiercest backup dancers. And Queen B wasn't the only star in attendance. The gala was hosted by Will Ferrell and Billy Crystal and held at the Shrine Auditorium.
Even though Blue is only 4 years old, her mom clearly isn't taking any chances when it comes to getting in good with the school's staff and other parents early. But how is she going to top this next year? Buy every candy bar the school is selling for its fundraiser? Can you imagine being one of the other women at the school trying to be cool at PTA meetings sitting next to Beyoncé?
According to one parent who was at the fundraiser, the Beyoncé performance was kept a secret until rumors started to circulate around the venue about 20 minutes beforehand, but no one was sure it was actually going to happen until she started singing. The parents in attendance understandably lost their collective crap when Bey took the stage and furiously posted pics of her performance all over social media. Yes, their Saturday night at their kids' school turned out to be the place to be. When has that ever happened, and where do I sign my own kid up?
Here's a quick video of Bey singing "I Will Always Love You":
Bow down indeed. Oh, and just because you haven't felt jealous enough yet this morning, here's a little video taste:
Bow down.