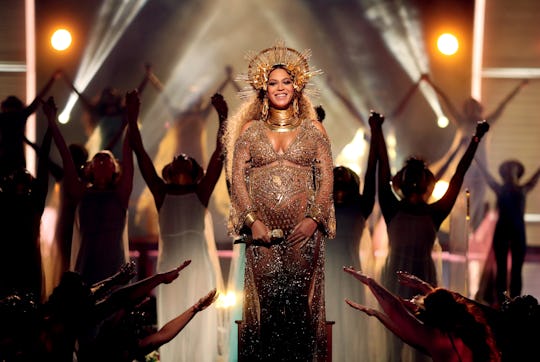 Christopher Polk/Getty Images Entertainment/Getty Images
The Powerful Statement Behind Beyoncé's Braids
On April 16, Ms. Tina Lawson, also known as Beyonce's mom, blessed Instagram with a casually gorgeous photo of her, Kelly Rowland, and a very pregnant Beyoncé on Easter. Beyoncé's perfectly round baby bump was definitely the star of the show, but Queen Bey was also sporting a long set of intricately beaded braids. Commenters gushed over her new hairstyle, and I found myself putting forth my best effort to zoom in to see just how small they actually were.
Of course, this wasn't the first time Beyoncé had rocked cornrows. She famously sported the look in the video for "Formation," leaning out the window of a blue vintage El Camino and letting her 4-foot-long box braids drape along the side. Her sister Solange made that statement even more explicit in the "Don't Touch My Hair" video, which opens with the visual of her shaking her beaded single braids in slow motion, before rebuking white people for treating black hairstyles like interactive museum exhibits.
Yes, Beyoncé's braids were a fashion statement, but they also came with an important message. Braids — whether cornrowed, long, short, thick, or thin —are a distinctive badge of black girl culture. And when that badge is paired with a pregnant belly, as it was in Beyoncé's Easter photo, it becomes a powerful symbol of black motherhood.
From the moment Bey announced she was expecting twins on Feb. 1 (which was, not coincidentally, the first day of Black History Month), black women have been celebrating her pregnancy. In a culture where black women are marginalized and treated as other, Beyoncé's pregnancy was a powerful symbol of the beauty and joy of black motherhood.
Yet almost immediately after she posted the announcement on Instagram, the backlash began. Writers took no time at all putting together thinkpieces calling Bey's announcement "tacky" and scolding her for sharing her announcement on social media.
Beyoncé rocking her badge of black girl culture while simultaneously sporting a very pregnant belly is giving black moms something to celebrate.
Beyoncé wasn't the first or last black woman to garner criticism for her pregnancy announcement. Last month, singer Ciara sparked a similar reaction with her nude maternity photos, which featured her also nude son Future and husband Russell Wilson. Shot for Harper's Bazaar, the images were sweet and artistic, yet people on Twitter called the photos "creepy" and "weird." Some even referred to the image as child abuse. What should have been lauded as a touching display of family affection was immediately sexualized, prompting Ciara to delete the photo from Instagram.
In itself, a celebrity doing a nude maternity photo shoot is nothing new: after all, Demi Moore arguably launched the trend more than 25 years in her famous 1991 photo shoot for Vanity Fair. Yet when a black pregnant woman poses nude, it's apparently difficult for people to view the image through an innocent lens, thanks to a culture that associates black women with promiscuity and white women with purity.
This distaste for black motherhood is not limited to celebrities. When a black woman announces her pregnancy, society tends to react with racist stereotypes: Will she be able to support our own children or will she depend on governmental assistance? Is she bringing the child into a stable family, or is she raising one more fatherless child? What will she teach her children? Our pregnancies are viewed as somehow being a burden on society, rather than as a source of joy.
As important as it is for black women to celebrate pregnancy and motherhood, we do so in a society that doesn't care about our maternal experiences. The disparities in our health care system result in black infants dying at the twice the rate of white infants, and the overwhelmingly white images that are pushed to normalize breastfeeding while black breastfeeding rates remain low suggest that, in our society, black maternal health is simply not a priority.
Unsurprisingly, the bias against black motherhood tends to have a negative effect on black women's mental health. In a 2014 study from Hamilton College, researchers found that black women are less happy during pregnancy, in part because they report receiving less support and positive attention from the community than white and Hispanic women did while they were pregnant. Unlike white mothers, black mothers don't get asked, "When are you due?" Instead, we're asked, "Is the father still around?"
I've confronted this racial bias firsthand. I'll never forget dragging my sick and pregnant behind to Target with my 11-year-old son in tow. As he headed over to the video game section, an older woman approached me and asked if he was my son. I said yes and smiled weakly. "How old are you?," she asked. When I told her how old I was, she responded with wonder: "And you're pregnant again!"
I wanted to respond with an explanation, or even a witty response featuring the cliché that black don't crack. But instead, I excused myself, saying I didn't feel well and needed to pick up medicine in the pharmacy aisle. "Oh, honey," she said. "Next time, make your baby daddy get it for you."
Beyoncé rocking her badge of black girl culture while simultaneously sporting a very pregnant belly is giving black moms something to celebrate.
I didn't enjoy talking to strangers while I was rocking a visible baby bump. Going out in public while pregnant required endless preparation: I had to sort through my son's closet for a well-put-together outfit, rather than letting him throw on his holey sweatpants, and I had to double-check that I remembered to stuff my swollen finger into my wedding ring, because I knew passersby would be looking for it. If I didn't do these things, no one would look at me with sympathy. They would instead look at me with judgment and concern, because when you're a black woman, your pregnancy is treated as a condition, not a source of excitement.
Unfortunately, thanks to our terrifying political climate, bringing a black child into the world is no less scary than it was 60 years ago. That's why it's so important that black pregnancy be treated not only with respect, but reverence. Beyoncé rocking her badge of black girl culture while simultaneously sporting a very pregnant belly is giving black moms something to celebrate. We can share in her joy and see ourselves in the braids that remind us of the ones our mothers, aunts, sisters, and cousins used to give us — and the ones we get now, sitting in a salon for most of the day to keep our hair almost maintenance-free for several weeks. We can empathize with the pain and tension from small sections of hair being pulled and manipulated into each individual rope.
Because these braids are unmistakably black, they are also radical. They do not conform. When Beyonce shows her bump and her braids simultaneously for the world to see, she is not conforming. She is normalizing the beauty of black motherhood, and I am totally here for it.