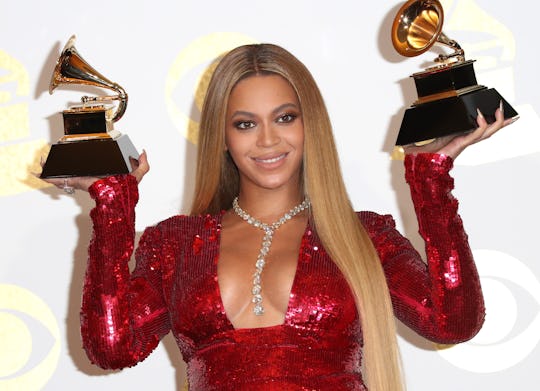 Frederick M. Brown/Getty Images Entertainment/Getty Images
Beyoncé's Latest Pregnancy Instagram Slays
Beyoncé is absolutely slaying with her second pregnancy. After announcing that she was expecting twins in February, the singer has been stepping out on the town quite frequently. For every event she attends, Beyoncé shows off her growing pregnancy bump to the delight of fans, anxious to see how far along she is and just what the music icon is wearing. Luckily, she's also been posting these outfit pictures to Instagram — and Beyoncé's latest pregnancy Instagram proves she is winning in the maternity style game, basically putting every other human on earth to shame.
She isn't called "Queen Bey" for nothing. From her music to her style, Beyoncé always delivers and comes out on top. Her latest pregnancy Instagram, posted to her account on Wednesday, only proves how strong her maternity style game is: In the series of photos, Beyoncé is seen wearing an incredible red maxi dress that perfectly hugs and displays her bump; it's paired with a set of dangling, red and gold jeweled earrings and black platform heels. The singer topped off the look with a black velour, tasseled handbag and deep crimson/oxblood ombre lips.
Suffice it to say, the mom of soon-to-be three little ones knows how to rock an outfit. Seriously, how does someone look this good while carrying two tiny humans at the same time?
But Beyoncé wasn't all dressed up with nowhere to go — she was dressed up for a date night in Los Angeles with her husband, rap mogul Jay Z, according to People. While Beyoncé remained relatively out of the public eye during her first pregnancy with 5-year-old daughter Blue Ivy, she's been showing off her pregnancy bump all over her Instagram this time. (Thank goodness for the rest of us.)
Beyoncé's maternity outfit posts have now become something fans look forward to. Since going public with her second pregnancy, she has consistently been posting videos and collections of her outfits and their details — giving fans both a glimpse at both her bump and a serious case of style envy. But with every outfit post comes more speculation as to whether or not Beyoncé is expecting twin girls or twin boys, as well: Fans seem to think that some of her outfits contain hints pertaining to her twins' genders — which is an interesting theory, but also a bit of a long-shot.
All speculation aside, Beyoncé's most recent pregnancy Instagram proves that she can seriously rock some maternity wear — and it doesn't look like anyone will be able to dethrone the queen any time soon.