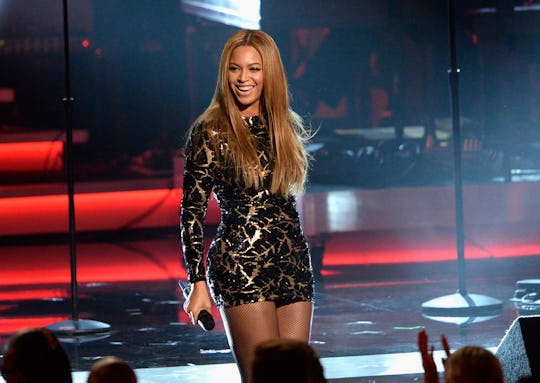 Kevork Djansezian/Getty Images Entertainment/Getty Images
Beyonce's Lemonade Track List Tells A Powerful Story About Womanhood & Race
Beyoncé released her new visual album, Lemonade, on Saturday. First aired on HBO, Lemonade is now available for download on iTunes and can be both purchased and streamed via Tidal. Beyoncé's Lemonade track list packs in 12 songs and a film, and members of the BeyHive won't want to miss a second of it.
There are two ways to approach Lemonade: fans can listen to tracks one through 12 on their own, or they can experience the whole album as a one-hour-and-five-minute film (listed as track 13). Though the music of Lemonade can be appreciated on its own, Carl Wilson of Slate puts weight on the visual, calling it "a beautiful and often disturbing kaleidoscope of poetry, feminism, racial politics, history, mythology, emotional upheaval, family, and romance that can be watched again and again and will be for years to come." Here's the full track list:
"Pray You Catch Me"
"Hold Up"
"Don't Hurt Yourself" (feat. Jack White)
"Sorry"
"6 Inch" (feat. The Weeknd)
"Daddy Lessons"
"Love Drought"
"Sandcastles"
"Forward" (feat. James Blake)
"Freedom" (feat. Kendrick Lamar)
"All Night"
"Formation"
Lemonade Film
The meaning behind Lemonade is already a major topic of conversation. When multiple songs referenced an unfaithful lover, fans wondered whether the album was meant as an autobiographical exploration of Beyoncé and Jay Z's relationship, TIME reported. Fashion designer Rachel Roy found herself at the center of speculation when she posted an Instagram photo that tied her to lyrics from "Sorry": "He only want me when I'm not on there / He better call Becky with the good hair." She captioned a snapshot, "Good hair don't care, but we will take good lighting, for selfies, or self truths, always. live in the light #nodramaqueens." It quickly led to backlash from the BeyHive.
Of course, there are plenty of people who benefitted from the spotlight of Lemonade. Beyoncé featured Jack White, The Weeknd, James Blake, and Kendrick Lamar on tracks. NPR reviewer Kiana Fitzgerald wrote that the inclusion of additional artists on Lemonade seemed to be soundly strategic:
Beyoncé uses these men as tools. She digests their work and filters it through her art, creating a new and distinct product. She's put her hand in every cookie jar of sound, making sure we hear her loud and clear — all genres, all listeners.
Though the album does seem to have an overarching theme, it still delves into a number of satellite topics. In a review written for the Chicago Tribune, Greg Kot urged listeners to appreciate the narrative of Beyoncé's Lemonade as more than a meditation on infidelity, heartbreak, and reconciliation:
There's a painful breakup at its center, but it offers a wider-screen view into family and the wisdom of mothers and grandmothers, the nature of manhood as defined by fathers and sons, the way that environment — geographic and psychic — imprints us from youth, the way love can break and redeem, the meaning of freedom and community.
Beyoncé's Lemonade is delighting fans, fueling intrigue, and contributing to an international conversation on love, womanhood, race, and social justice. Beyoncé is one of music's most powerful voices; it's clear she doesn't take that status lightly.