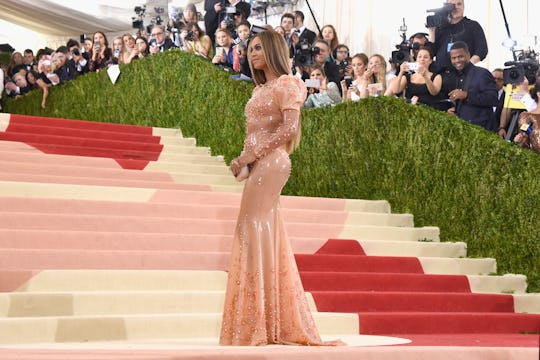 Larry Busacca/Getty Images Entertainment/Getty Images
Beyonce's Met Gala Dress Was Totally Unique & Fans Expected Nothing Less
Ever since pop superstar Beyoncé released her long-anticipated visual album Lemonade last week, the buzz about Queen Bey has been pretty much constant. It's no surprise then that her expected presence at this week's Met Gala in New York was source for great excitement in the fashion world. And she did not disappoint. The moment she stepped foot on the red carpet, it was clear that Beyoncé's Met Gala dress was unique and fabulous, as we would expect from a diva of Beyoncé's stature.
The Givenchy latex dress was pretty much a jaw-dropper. Head-to-toe latex is bound to turn heads no matter who's wearing it, and Beyoncé in latex is something akin to a meteor — shiny, awe-inspiring, and impossible to ignore. According to Vogue, it was surprisingly easy to put on, too; she claimed it was easier to get into than the dress she wore last year.
The Met Gala, which is officially called the Metropolitan of Art Costume Institute Benefit, convenes annually to raise money for the Met's Costume Institute — basically, its fashion wing — the only curatorial department of the museum that needs to fund itself, according to The New York Times. The star-studded gala is referred to as the "Oscars of the East Coast," and it affords fashion-conscious superstars the opportunity to flaunt their most creative outfits. (And, by extension, affords us the opportunity to drool at them.)
The light rose-hued gown appears to feature ivory, beaded embellishments, and delicate pink flowers lining the skirt. If Beyoncé was going for wow factor, she certainly got it, as evidenced by the polarizing reactions seen on Twitter. There were those who went googly-eyed at the dress:
But then there were the legions of Tweeters who likened the dress to a giant condom studded with acne. Indeed, the haters were so voluminous the the Elite Daily characterized fans as letting out a "sigh of disappointment" upon viewing the gown.
The good news, though, is that even as everyone hated on the dress, they continued to love the lady wearing it. One Twitter user said that no matter what the dress looks like, "she is Beyoncé and I will hype her," while another clarified, "I love Beyoncé but I don't love her Met Gala dress."
Despite what these haters think, it's frankly impossible to not admire a person for wearing a tight-fitting, full-body latex dress, especially one that's studded with pearls. It's unexpected, it's ballsy, it's unique — and it's 100 percent Beyoncé.