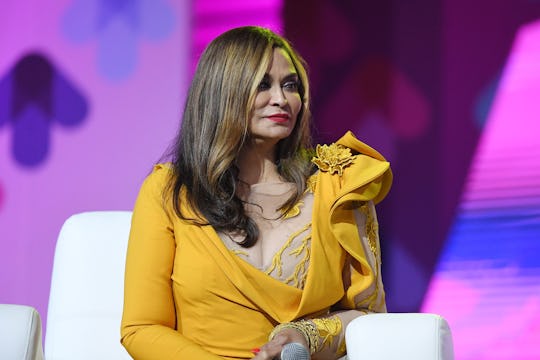 Paras Griffin/Getty Images Entertainment/Getty Images
Beyonce's Mom Had The Best Response When Asked About The Twins
Grandmas get some serious bragging rights, along with the freedom to make jokes that err on the side of corny. Beyoncé's mom, Tina Knowles Lawson, is no exception to this rule. Case in point: When she was asked recently about the birth of the Carter twins, Beyoncé's mom had the most "grandma" response ever. While obviously overjoyed at the new arrivals, she's staying true to herself with laughs and lighthearted comments.
Lawson and her husband, actor Richard Lawson, spoke with E! News while attending the the HollyRod Foundation's Design Care event in Los Angeles on Saturday and the discussion, of course, turned to the twins. When an E! News interviewer asked her about Rumi and Sir, Lawson replied, "Oh, the kids are wonderful but the best thing is that you can give them back." If that isn't straight out of the grandparents' joke handbook, I don't know what is.
Fans aren't likely to be surprised by the cheesy-goodness of Lawson's joke. She is known for her "Corney Joke Time" videos on Instagram and her famous sense of humor.
This is also not the first time that Beyoncé's mom has spoken out about her love for the little ones. On Friday, after Beyoncé initially posted the first photo of Rumi and Sir on Instagram, Lawson shared the photo and responded emotionally to the reveal:
So Happy my baby shared a photo of her babies with the world ❤️❤️❤️proud grandma hello Sir Carter and Rumi Carter... 7/13/2017 Boy and girl what a blessing.
Along with solidifying her proud grandma status, her post also cleared up rumors about the sexes of the twins, making it clear that Beyoncé and JAY-Z welcomed both a boy and a girl into the world.
The Lawsons also opened up this weekend about JAY-Z's new visual album, 4:44, and shared their support for his music. "Oh, we are fans [of his music]," Tina said. "It's wonderful." Richard Lawson went into more detail about his opinions of the album:
It's a shift in paradigm. He did something that was incredible. I think he's changing the game. Nobody expected him, who people look to as the best rapper in the world, to come from that place, so he is changing the game. I hope other people out there will hear it and do their thing so that some of the topics and subjects can sort of shift and change and recognize the power they have in this world and that's what he does.
It is clear from this interview that each member of the Carter family has a wealth of support coming from the Lawsons. Along with the love and support of the entire Beyhive, Rumi and Sir will surely get lots hugs and kisses from Grandma — along with a few perfectly corny jokes.