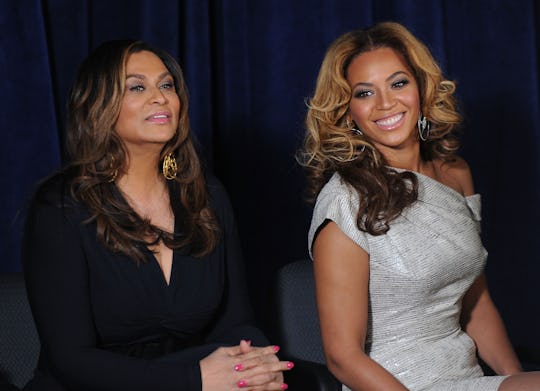 Jason Kempin/Getty Images Entertainment/Getty Images
Beyoncé's Mom Celebrated Her Daughter's 37th Birthday With The *Cutest* Baby Photo
Moms always know just what to say to their kids on special days, and Tina Knowles-Lawson is no exception. Today is Sept. 4 and it just so happens to be Queen Bey's birthday. Yes, the day that the world was blessed with Queen Bee. As such, Beyoncé's mom celebrated her daughter's 37th birthday with a heartfelt message shared on Instagram along with the cutest throwback photo — ever. In the post, she reminiscences about the day her daughter was born and how lucky she is to be the mom of one of the most successful entertainers in history.
"It's already your birthday where you are," Lawson wrote on Instagram. "So Happy Birthday to the nicest, owner of the most beautiful, generous, loving hearts ever !!!! Brilliant too! Always thinking, planning, analyzing, strategizing, how you can make everything you touch better!"
She continued, "On this day you were 4 months old and i couldn't even control the excitement and pride and the all encompassing love i felt for you, my first born."
Like any mom, she wants the world to know how proud she is of her own flesh and blood and blessed the world with an adorable picture of Beyoncé as a baby girl — complete with a pink puffed sleeve dress, tiny pierced ears, and a full head of hair.
In the post, Queen Bey's mom went on to say that the birth of her daughters were the best moments of her life — a sentiment most moms can agree on. She wrote:
I made a vow to love and cherish you everyday. For the rest of my life! Sometimes I can't believe out of all the incredible people in the world I was chosen by God to be your mom! The day that you and your sister entered this world were the two best days of my life, hands down!! It is a privilege to have carried you two in this body Enjoy your B-Day!!! No one deserves it more !! I love you!
See? Even celeb moms are not exempt from getting a little sappy around their kids' birthdays.
And this is hardly the first time Lawson has applauded her daughters' accomplishments and showered her with this motherly admiration and love. For example, she recently gushed about her daughter's stunning Vogue cover on Instagram.
"My beautiful baby on the Cover Of Vogue Magazine," she captioned a photo of the magazine cover. "So proud of her openness about her pregnancy. Sure it will help others. Love that she wore hardly any make up and her natural hair in braids."
And a few years back, in 2015, Lawson wrote a piece for TIME — entitled "Letters from Mom" — she shared her wishes for each of her daughters, with a specific and touching shout-out to Beyoncé. She wrote for TIME:
Beyoncé, I wish people could see how you are when you're not in front of the camera or on the stage. How compassionate and kind you are to people, how you look them right in the eye when you speak to them. How hard you work, how generous you are with your time and money. How you don't care if anyone knows about it because you do it from the heart.... Yes, you are a huge star, but you have somehow managed to stay grounded and humble in the wake of all your success.
Clearly, Miss Tina's love for Beyoncé — on her birthday or any other day of the year — is strong and limitless.
OK, so aside from being showered with love from her mom today, what is Beyoncé doing for her birthday this year? She hasn't said yet or shared anything about her celebrations on Instagram so far, as ESSENCE reported, but it's probably safe to assume that she's celebrating with her husband JAY-Z and their three adorable kids: Blue Ivy, Rumi, and Sir. And with a cool $355 million net worth, as Forbes reported, the sky really is the limit.
And while Mama Knowles might not be with her daughter on her birthday, she'll probably continue to dish out more motherly love for Bey on her special day. And, really, isn't that the best present of all?