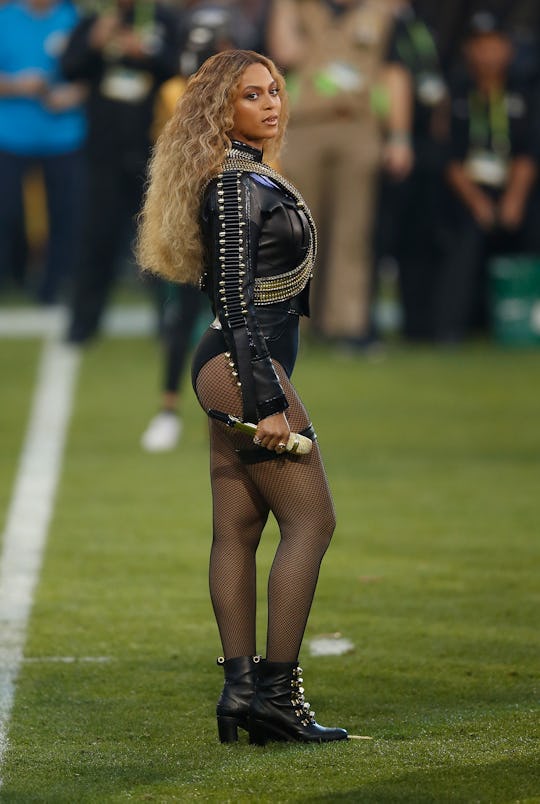 Ezra Shaw/Getty Images Sport/Getty Images
Beyonce's New Video Might Include The Parents Of Those Lost To Alleged Police Brutality
When Beyoncé released "Formation" in February, fans got to see a new side of the singer. The video's references to African American history and the #BlackLivesMatter movement suggested an emerging human rights focus for the superstar. Now, an unofficial announcement from the fan site Beyhivé suggested that her next project will be just as politically charged. Beyoncé may include Michael Brown's, Trayvon Martin's, and Tamir Rice's parents in her new video, according to HipHopDX.
An autopsy found that teenager Michael Brown was shot six times during an encounter with Officer Darren Wilson, according to BBC News. A grand jury refused to indict Wilson. Trayvon Martin was killed by George Zimmerman, a neighborhood watch captain who was eventually acquitted of Martin's death, CNN reported. He was 17. Officer Timothy Loehmann shot and killed Tamir Rice in Cleveland, according to CNN. Rice was 12 years old. An Ohio grand jury also refused to indict Loehmann.
Earlier this month, the Beyhivé tweeted that Beyoncé just finished her new album and mini film, The Muse reported. The group's source said fans can expect new music in April, but it's so far not confirmed. The information on a possible video release suggests that Beyoncé is leaning into her emerging role as a leader in merging the message of #BlackLivesMatter with music.
Beyoncé released her "Formation" video the day before Super Bowl 50, according to Rolling Stone. The song's debut marked the first new music from the singer "in over a year," and it quickly started a nationwide discussion. New York Magazine Associate Beauty Editor Ashley Weatherford told Vulture that the lyrics and video for "Formation" showed Beyoncé embracing her heritage:
There's often talk of what it means to be "unapologetically black," and this video is the blueprint. Lyric by lyric, she celebrates blackness.
Though Coldplay was the official headliner for the Super Bowl 50 Halftime Show, Beyoncé got huge attention for bringing "Formation" to the field. ESPN Magazine founding editor Roxanne Jones wrote for CNN that Beyoncé's Super Bowl performance was deeply meaningful:
For a minute, watching Beyonce and those strong black women sporting black berets and big afros march out onto the field, I forgot I was watching a Super Bowl performance. For the first time I felt like I wasn't just a spectator of the game but that the game had become a part of my black experience in America. With just a few lyrics, Beyonce connected with black women everywhere. Her performance became personal.
Seeing Beyoncé use her celebrity to spotlight critical issues is powerful. By embracing her platform as an opportunity to serve as an advocate, she's helping to sustain a critical national conversation.