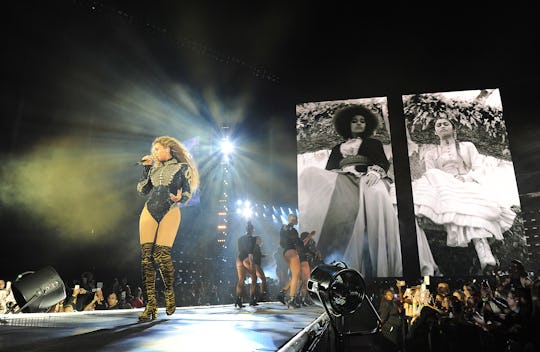 Handout/Getty Images Entertainment/Getty Images
Beyonce's Performance At The VMAs Was Worth The Hype
The MTV Video Music Awards are all about random surprises, which is why it was fitting that Beyoncé's performance at the VMAs was kept a secret until just a day before the big show. Everyone knew it was bound to happen since the VMAs are as much of an institution as Bey is these days and it would have been awkward not to have her perform. And perform she did. Beyoncé took over the stage and captivated everyone. She basically did all of your favorite songs from Lemonade and remixed her own visual album for the the VMA stage.
She opened with "Pray You Catch Me," with a dancer in a grim reaper sort of costume taking out the dancers behind her one by one, before carrying Bey away. Drama ensued, of course.
She went into medley of "Hold Up," "Sorry," "Hurt Yourself," and then finished with a fierce "Formation." If you couldn't afford a ticket to go see her in concert, Beyoncé's VMA performance was pretty much a highlight reel of everything a Beyonce fan could ask for. The lights, the dancers, the song choices, and Bey's always on point moves were just perfect. Try to watch it and not queue up the whole album for a little solo dance party. You can't.
Although she was up for 11 awards, including best video for "Formation," best collaboration with Kendrick Lamar for "Freedom," and best long form video for Lemonade, her appearance at the awards wasn't officially announced by MTV until a tweet just hours before the show on Sunday night. A source told Billboard that she was in "top-secret rehearsals" for the show on Saturday, but when it comes to Beyoncé, it's usually just anyone's guess (or good sourcing from the BeyHive) what she's actually up to. Let's all just be happy that she managed to schedule her Formation tour and upcoming shows in New Jersey next week around this solid VMA performance.
Bey has been been gracing us with her presence at the VMAs since forever. Her first big solo appearance was in 2003, when she took the stage for a medley and had Jay Z join her on "Crazy in Love" at the end. In 2006, she performed "Ring the Alarm" in the hottest trench coat ever, and in 2009, she took the stage to do "Single Ladies," which is when everyone who wasn't already in love with her fell hard.
That year was also the year that Kanye West interrupted Taylor Swift when the young pop star won the award for Best Female Video instead of Beyoncé. Bey was good about it, though. After the Kanye debacle, she called Swift back on stage to finish her speech, saying "I remember being 17 years old, up for my first MTV award with Destiny's Child, and it was one of the most exciting moments of my life, so I would like for Taylor to come out and have her moment."
Beyoncé has been making VMA history since forever — this year was no different.