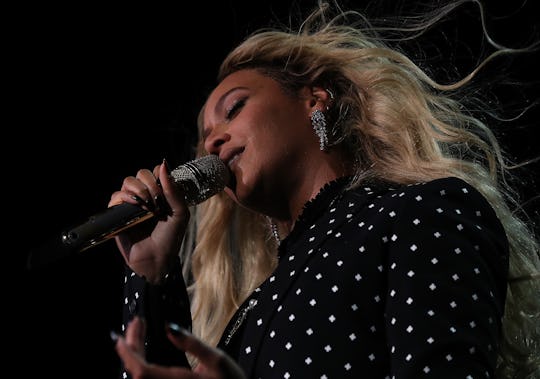 Justin Sullivan/Getty Images News/Getty Images
Beyonce's Pregnancy Is Saving Us All, Apparently
In the middle of another long week in President Donald Trump's America, our collective and battered conscience received a break. Beyoncé announced, via a beautiful Instagram post, that she is pregnant with twins, and the dark clouds that have been our current political climate seemed to part (if only for a moment). "Beyoncé's pregnancy is saving us" are the reprieve we all need, want, and (honestly) deserve. So kick off your marching shoes, put down your protest signs, and enjoy a few moments of shameless and unadulterated fun at the expense of, well, us.
Now, is it morally sound to place the hopes and dreams of an entire nation on the still-forming shoulders of two fetuses? Probably not, but I'm not here to judge. In just 12 days in office President Trump has signed 18 executive orders, including the Mexico City Policy reversal and the controversial (not to mention, unconstitutional) executive order to ban refugees from seven Muslim-majority countries. He has attacked the media on more than one occasion (including the first day of Black History Month during a press conference) and has appointed questionable people to high-ranking government positions, like Betsy DeVos and Jeff Sessions. In other words, it's difficult not to feel like our world is on fire. Enter, of course, Beyoncé.
With a quick post, a few hundred flowers, a beautiful see-through green veil, and a baby bump, Beyoncé gave us all a collective break from the mind-numbing and oh-so terrifying reality we currently inhabit. While two growing fetuses cannot (and will not) change our politics — so it would benefit us all to remain tirelessly vigilant and resist the policies currently being enacted by the president and his administration — it's nice to feel, if only for a moment, that two still-growing saviors are coming to save us with the mercy and grace they will no-doubt get from their mother.
So here you have it, in all their glory: hilarious tweets that prove Beyoncé's babies are the heroes we need, but certainly not the heroes we deserve. After all, we let Trump happen.
See? Wasn't that fun? For a few seconds we could all let out a sigh of relief, holding firmly to the belief that someone (or, well, two someones) will come and save us from our current reality.
Now, back to the actual story: that won't happen. We are going to save ourselves, so if you're still looking to get involved you can donate to the ACLU, call your representatives, and continue to make your voice heard. Beyoncé's twins deserve to enter a better world than the one we're currently residing in.