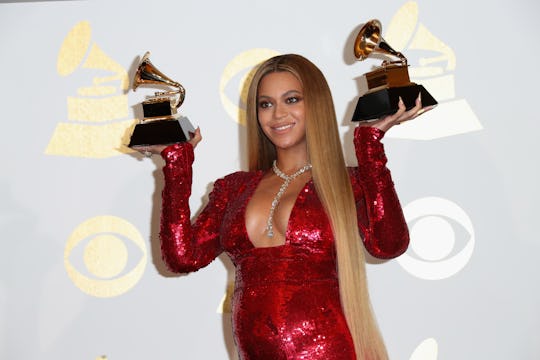 Frederick M. Brown/Getty Images Entertainment/Getty Images
Beyonce's Rep Responds To Allegations Of Lip Injections
If you mess with Beyoncé, you mess with her publicist — and on Friday, Beyoncé's rep took down critics who wondered whether Beyoncé had gotten lip injections, schooling critics on the side effects of pregnancy. After the Lemonade singer recently posted a picture with fuller lips on Instagram, the public quickly responded with rumors of injections and fillers. In turn, Beyoncé's rep responded with nothing but sass, blasting a website that published lip injection rumors by saying, "Picking on a pregnant lady is tantamount to possessing the coldest, despicable heart."
The response came after a media website published a story on Beyoncé's lips on Thursday, which read: "We've heard of your NOSE growing during pregnancy ... but can it happen to your lips too?? That's what Beyonce would like us to think."
In response, Beyoncé rep Yvette Noel-Schure released a statement to Gossip Cop, standing up for Beyoncé and against the intense bodily scrutiny that pregnant women often receive. "What do you know about the effects of pregnancy on a woman's entire body? Please tell me," Noel-Schure wrote, according to Gossip Cop. She continued:
Did you know that in addition to weight gain there is often a dramatic change in the blood flow in the system and increased fluid causing swelling? Do you know that often women's gums get swollen? Do you know that it sometimes affects our speech, our ability to chew intently and a host of other things?
Noel-Schure wrote that she kept quiet during Beyoncé's first pregnancy in 2011 — in which Beyoncé was the frequent target of fake pregnancy rumors — but couldn't sit idly by this time.
"The sacrifice to our faces, our feet and our entire bodies is something we welcome because we bring beautiful humans into the world who will one day combat your hate and negativity," Noel-Schure said in her statement, which was addressed to staffers at the website that suggested Beyoncé had used lip fillers. "You need to find something else to do with your time and maybe stop by a store that has happiness on sale because you need to buy some."
Can we just stop for a minute and appreciate the glorious takedown that just ensued? Women's bodies should never be fodder for speculation, and that's especially true when those bodies are working in overdrive to create another human being. It's not easy work, and all women's bodies react to pregnancy differently.
The last thing women should need to deal with, on top of the myriad changes pregnancy brings, is intense public speculation about their bodies, so kudos to Noel-Schure for stepping up to defend Beyoncé and pregnant women everywhere.