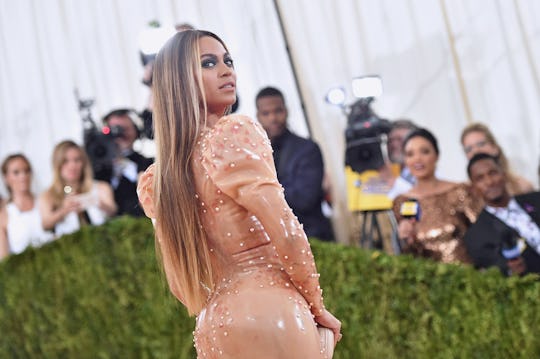 Mike Coppola/Getty Images Entertainment/Getty Images
Beyonce's Spanx Hack Is Bey-rilliant, & Here's How You Do It
Bey and JAY-Z attended Rihanna's Diamond Ball (friendship goals, anyone?) last week and fans learned a lesson in classiness from the Lemonade star. Her (relatively) affordable $165 gown wasn't the only moment of sartorial brilliance that Beyoncé brought to the table that night — it's what was going on underneath the dress that really made waves. So, here's how to do Beyoncé's Spanx hack that has everyone thinking: "Now, why didn't I think of that before?"
Twitter user Sakita Holley called it out in a viral post, showing a zoomed in photo of Bey's thighs. On one leg, you can clearly see the black lace framing the bottom of her Spanx. On the right, though, it's all bare leg. Basically, in order to customize her Spanx to fit her dress, Bey forwent one of the legs completely, and, as it appears, just cut it off altogether. Genius.
This move was revelatory for multiple reasons. "Wait," a Twitter user questioned: "Beyonce wears Spanx? ... I thought she was unassisted level body sculpted." As perfect as she is, even Queen Bey gets some extra assistance in the "body sculpting" department. Other users vowed to try it out themselves the next time a high-slit skirt threatened to obscure the need for Spanx.
"I think they modified it for the slit in the dress," a TMZ staffer postulated in a video after examining the Bey Diamond Ball footage. "Who cares?" another staffer asked. "It's OK. What is a bigger deal that is that she's wearing them because you can't breathe in them b*tches. It's not fun." One leg or two, wearing Spanx for an entire night is certainly no walk in the park.
So did Beyoncé wear custom, asymmetrical shape-wear specifically designed for celebrities with high slits? Or is this attainable for us mere mortals as well? While that's certainly not beyond the realm of possibilities, it's likely that a stylist just made the alteration for her.
Just how simple is it, though? From the looks of it, Bey snipped her left side, probably somewhere around the hip region to resemble a bikini or leotard style. It's a quick fix that would work for anyone, really, should an outfit call for a lot of singular leg.
Bey's gotten a mixture of flak and praise for the move, but who's to say this is the first ever occurrence of Spanx modification? High slits are as big of a staple on the red carpet as shape-wear is, so perhaps this is just one of those old, Hollywood secrets that's finally come to light.
The fact of the matter is that when you're photographed from every angle, every day, before and after giving birth to twins, you'll want to take every step within your power to ensure that you look #flawless and feel like your best self, however that may be.
All of the focus on Beyoncé's right leg managed, somehow, to distract from anything that went on at the actual event (because, you know, priorities). Rihanna's Diamond Ball supported her Clara Lionel Foundation, which works to provide educational opportunities "as a weapon against injustice and inequality," and works to promote health and health care services as a "necessity for happiness and productivity," its website promotes. In the past, the event has garnered $3 million, all going to charity. In addition to Bey and Jay, Emily Ratajkowski, Lil Kim, Jamie Foxx, Future, and others all attended to watch Kendrick Lamar and Calvin Harris perform, with Dave Chappelle as the MC.
Even with three babies at home, Beyoncé made sure to step out and show support for such an important mission. And thanks to a rogue gust of wind, the world got to see what was going on behind the scenes, and learn a tip or two for future glam nights of our own.
Watch Romper's new video series, Romper's Doula Diaries:
Check out the entire Romper's Doula Diaries series and other videos on Facebook and the Bustle app across Apple TV, Roku, and Amazon Fire TV.