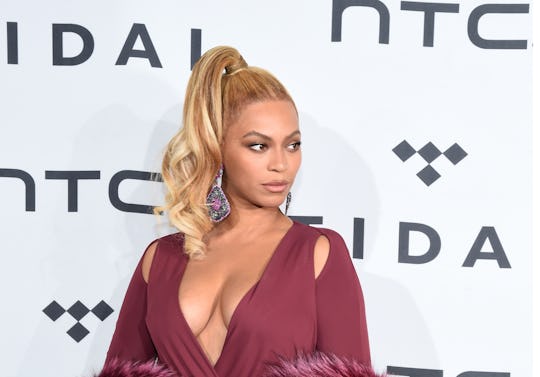 Ilya S. Savenok/Getty Images Entertainment/Getty Images
Beyonce's Statement About Alton Sterling & Philando Castilo Is Powerful & Stirring
Last night, while the country was still reeling from the tragic death of Alton Sterling, another black man died at the hands of the police. Philando Castile was pulled over in Falcon Heights, Minnesota, when driving with his girlfriend, Diamond Reynolds, and her daughter. When he reached for his wallet at an officer's request, he was shot and killed, according to a now-viral video posted by Reynolds. Many are venting their feelings about police shooting black people on social media; others are protesting. Beyoncé used her website as a platform to share her thoughts, and it's clear she is devastated by the increasing regularity of police use of deadly force toward people of color. Beyoncé's statement about Alton Sterling and Philando Castile is powerful and stirring.
She began her statement by proclaiming, "We are sick and tired of the killings of young men and women in our communities." She goes on to say that "we don't need sympathy. We need everyone to respect our lives." The statement is part poem, part manifesto, but mostly, it is a call to action. She wrote:
It is up to us to take a stand and demand that they 'stop killing us.' [...] We're going to stand up as a community and fight against anyone who believes that murder or any violent action by those who are sworn to protect us should consistently go unpunished.
She speaks generally about the "war on people of color and all minorities," but specifically refers to the "families of Alton Sherling and Philando Castile" and their tragic loss.
As for Beyoncé's plan for fighting injustice, she encourages readers to "channel our frustration and anger into action." She writes that "we must use our voices to contact the politicians and legislators in our districts and demand social and judicial changes." Near the end of her statement, there's a link to contact your local politicians and lawmakers. She ends by saying, "your voice will be heard."
Beyoncé was not the only high-profile member of the black community to speak out today. President Obama shared a post on his Facebook that discussed the "lack of trust that exists between law enforcement and too many of the communities they serve." While he doesn't call out for direct action like Beyoncé does, he asks everyone to come together peacefully and to act with empathy. He wrote:
all Americans should recognize the anger, frustration, and grief that so many Americans are feeling -- feelings that are being expressed in peaceful protests and vigils. Michelle and I share those feelings. Rather than fall into a predictable pattern of division and political posturing, let's reflect on what we can do better. Let's come together as a nation, and keep faith with one another, in order to ensure a future where all of our children know that their lives matter.
It is a tragic day for the United States, but here's hoping that grief can be galvanized to change, misery to understanding, injustice to equality — or at least adequate punishments and changes for those who seem to be abusing their power.