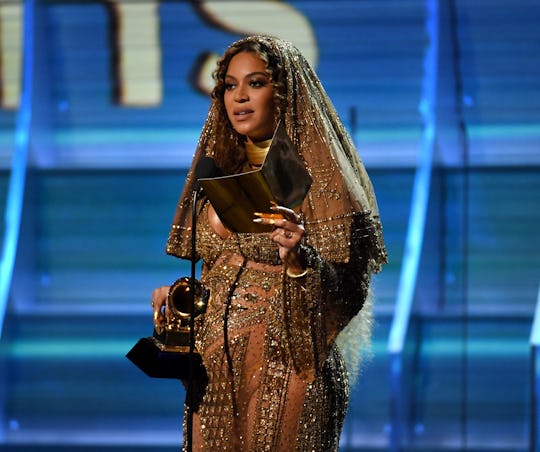 Kevork Djansezian/Getty Images Entertainment/Getty Images
Beyoncé's Twins Are Geminis & Fans Have Plenty Of Thoughts
If you thought the Beyhive wouldn't have some serious opinions on the astrology behind the Knowles-Carter twins' births, get ready to be very, very wrong. On Saturday evening, Us Weekly claimed that singer-songwriter Beyoncé had reportedly given birth to her newest additions earlier in the week (though her rep did not immediately respond to a request for comment). That meant, of course, that Beyoncé's twins were, fittingly, Geminis. As usual, Twitter users across the board had plenty of thoughts on the matter.
"If Beyoncé had the twins forreal, I'm so glad they're not Tauruses," one Twitter user joked. "Tauruses are EVIL and manipulative stay away from me."
Others were more concerned with the numbers. "Beyoncé had twins in gemini season so she actually had quadruplets," wrote another fan.
In astrological terms, Gemini is represented by twins Castor and Pollux, from Greek and Roman mythology. The twins were born to the mythological figure Leda, who was also mother to Helen of Troy, and as the story goes, shared the same constellation after death, thanks to the god Zeus (who was also Pollux's biological father... mythology is complicated, OK?).
Needless to say, to many across social media, the comparison felt fitting (I'm not saying Blue Ivy is Helen of Troy, the most beautiful woman in fictional Greece at the time, but I sort of am). Children of a god and a royal queen alike, whose names were written in the stars? You do the math.
Either way, plenty in the Beyhive were ready and willing to weigh in on the whole Gemini situation immediately.
"Of course Beyoncé gives birth to TWINS during GEMINI SEASON," one Twitter user wrote. "I aspire to be as extra as Beyoncé."
"If the twins are actually Gemini," another fan tweeted humorously, "then Beyoncé really on some next level goddess sh-- (not that she wasn't before)."
Some were more concerned for the now-(reportedly)-mom-of-three's sanity. "Y'all Beyoncé had her twins and they're Gemini's [sic]. She's def gonna have double trouble lmao," one fan wrote, referring to the astrological belief that Geminis are talkative, supremely curious (read: extremely busy babies), and sometimes seen by others to be "fickle and restless," according to Astrology.com.
As one user put it, "Beyonce has Gemini twins. The world is not ready."
That may or may not be true. Bey may or may not be enjoying some quiet time, post-delivery, before she has to head home and wrangle all three of her little ones at once. But one thing is abundantly clear: If Queen B really did just give birth to two Gemini babies, then, truly, we've all been blessed twice-over.
Praise Bey.