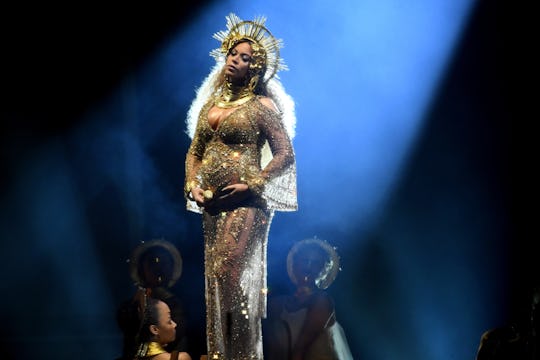 Kevork Djansezian/Getty Images Entertainment/Getty Images
We Don't *Need* A Beyoncé Twin Photo, So Let Her Live
Look, unless you've been living under a rock (which, if you have been, honestly good for you), you're aware that Beyoncé has reportedly given birth to her twins. While no official confirmation has been given on the matter by the Queen herself, news outlets all over the world have had a field day reporting on Bey's newest family additions. Speculations have been made as to the babies' genders, names, sizes, and health conditions. And more and more internet users have wondered about a photo. But, here's the thing: Beyoncé's twins photo doesn't exist yet, and honestly, it's fine if it never does. Why? In short, neither Beyoncé, nor her husband JAY-Z, owe anyone anything when it comes to their kids.
It was a full month after Queen Bey gave birth to Blue Ivy when a photo was finally released of the new family, back in 2012. And more important than anything else about those gorgeous photos was the note included, which read: "We welcome you to share in our joy. Thank you for respecting our privacy during this beautiful time in our lives." Even back in 2012, the Carter's recognized the need for privacy, especially during such intimate family moments. And now, with the birth of two more babes into the Carter family, privacy is once again of the utmost importance.
In case you haven't really been paying all that much attention to the Beyoncé twin news cycle, allow me to catch you up. Come along, will you?
Beyoncé has been noticeably absent from social media these past few weeks.
Paparazzi spotted cars leaving the Carter family home and arriving at an L.A.-area hospital.
Soon after, multiple news outlets confirmed Bey had given birth.
The next day, Beyoncé's father seemingly confirmed the news of the twins' birth via Twitter.
Over the next few days, news outlets also reported Bey's twins were remaining in the hospital due to a "minor issue."
Bey and family have now reportedly left the hospital, and are staying at a rental home for now.
Yeah, it's been a wild ride.
But, in the midst of all these "reported" stories confirmed by "anonymous sources," it's important to remember that neither parent has actually said anything regarding the birth, and that's kind of a big deal.
Just because Beyoncé and JAY-Z are practically American royalty, it doesn't mean that they are required to share anything with the public that they don't want to. Clearly, judging purely by Bey's own Instagram page, the couple will share some flawless photos of the babies eventually, but that's entirely up to them. They have both been extremely generous with what they've shared about little Blue, and for that, the world should be grateful. But as far as the twins are concerned, Beyoncé and JAY-Z don't have to share anything they don't want to. And that's really all there is to it.