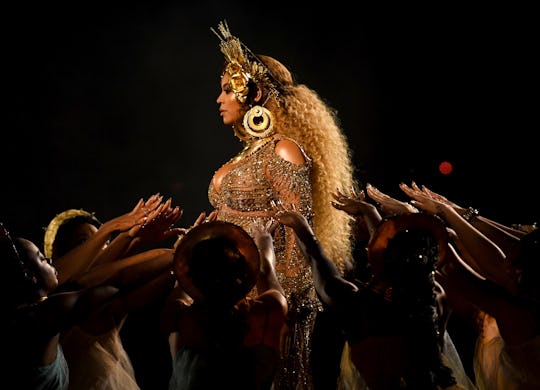 Kevork Djansezian/Getty Images Entertainment/Getty Images
Beyonce's Twins Photo Was About Racism, Too
When Beyoncé shared the first photo of herself holding her newborn twins, the internet almost broke. This wasn't really a surprise, as her pregnancy announcement photo also nearly broke the internet. Basically, anything Bey does is bound to spark interest. And with her latest photo holding twins Sir and Rumi, Queen Bey has done more than just shatter records (she already beat her previous record of 6.4 million likes). As with her pregnancy announcement photo, Bey's Instagram of herself holding the twins features the singer in a veil, surrounded by flowers. But, what's the big deal? Well, Beyoncé's twins photo was about racism, as well as as myriad of other hot topics.
Beyoncé, as well as her husband, JAY-Z, is well-known for shattering stereotypes and invoking strong imagery with just about everything she does. She has never been one to shy away from calling out racism, or sexism, and her songs and music videos reinforce that. But that's not all. Beyoncé's carefully curated Instagram account also plays a role in her breaking barriers. Bey's two announcement photos about the twins both have strategic imagery in that they recall ages-old depictions of the Virgin Mary. In doing so, Beyoncé has effectively smashed the belief that whiteness equals purity.
As The Washington Post aptly notes, "The Virgin Mary is traditionally represented in art as a white woman. Often her complexion takes the palest possible hue, apparently connoting holiness and innocence." Despite the common knowledge that Mary was historically Jewish and hailed from the Middle East, The Virgin Mary has represented white, Christian, Western supremacy for years now.
Beyoncé, for her part, has challenged that mindset. Per The Washington Post:
Beyoncé's re-appropriation of Virgin Mary iconography offers a biting critique of this supreme exemplar of feminine whiteness and the ideology that constructs and perpetuates it. At a moment when white supremacy is echoed in the "America first" slogan of President Trump, Beyoncé simultaneously dislodges "white" from its central place in religious iconography and Trump from his recent monopoly of press headlines.
Because, as ridiculous as it is, the world, and America in particular, is still deeply racist. And while Bey has done great activist work to help combat the issue, her pregnancy and birth announcement photos take it a little deeper. The subtlety of Beyoncé's message — that blackness is powerful and beautiful and pure — is almost as important as the message itself. For too long, women, and black women in particular, have been accused of being too "aggressive," when they dare to speak up. Beyoncé's Virgin Mary imagery stands in contrast to that perception. She isn't saying anything; instead, she is quiet, letting her imagery stand for itself.
The birth of Sir and Rumi Carter is a joyous occasion, but Bey's photos remind the world that 2017 still isn't an ideal time to be black in America.