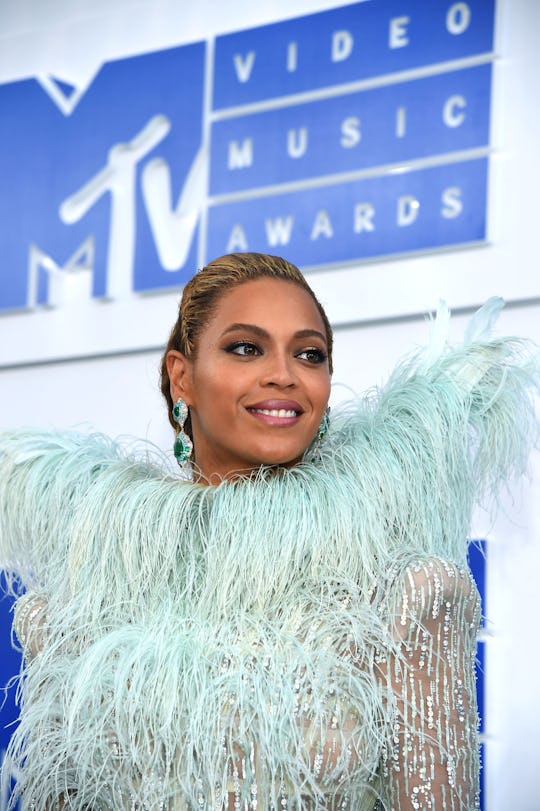 Larry Busacca/Getty Images Entertainment/Getty Images
Beyonce's VMAs Black Lives Matter Performance Dominated The Stage
Beyoncé basically dominated the stage at the VMAs from the second she stepped foot on it – which is honestly no surprise. But in addition to sick vocals, stunning fashion, and incredible stage production, Beyoncé's VMAs Black Lives Matter performance invoked something seriously profound. Beyoncé has never been a stranger to using her platform on stage to bring attention to the things that matter to her; feminism, racism, and the way they intersect have always been a part of her performances, and when she took the stage at the 2016 VMAs it was no different.
It started on the red carpet, where, according to Billboard, Beyoncé was accompanied by the mothers of Trayvon Martin, Eric Garner, Oscar Grant, and Mike Brown: Sybrina Fulton, Gwen Carr, Wanda Johnson, and Lesley McSpadden, respectively. With the exception of Grant's mother, all of the women had also appeared in the short-visua album that accompanied Lemonade holding photos of their sons. Bringing them along on the red carpet was a powerful statement made without words, but Beyoncé didn't stop there. Police brutality was something referenced throughout Lemonade, so it was amazing to see that brought to the stage too – and it was beautifully done. Beyoncé had a dancer wearing a hoodie who appeared to stand in for Trayvon Martin behind her, holding her up.
That moment wasn't the only one in which Beyoncé referenced the Black Lives Matter movement and the people whose lives have been lost due to police brutality and racial bias. Right before she was caught and held aloft by the dancer in the hoodie, she was surrounded by other dancers who fell one by one around her as though shot. It was an artistic way to address and represent very real, very pressing issues. Beyoncé found a way to make an important statement almost entirely without words more than once in a performance that will surely be talked about long after the night is over.
Beyoncé is truly on another level when it comes to her performances. She's able to combine the real issues that matter to her with a crazy impressive level of artistry, and pretty much leaves everyone else in her dust every single time. It brings new levels to her music and performances – almost all of which reach iconic status before she's even finished.
There may have been other performances tonight at the VMAs but honestly? Beyoncé put them all to shame.