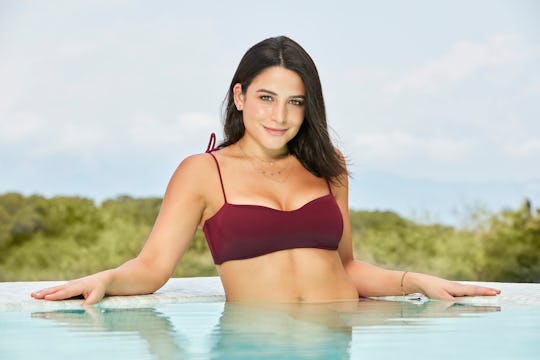 Craig Sjodin/ABC
'Bachelor' Nation Is Very Conflicted Over Bibi's 'BiP' Pick
Colton's time in Paradise seemed all but up when he bailed on a possible reunion with Tia and couldn't strike up a spark with anyone else. But in the eleventh hour, just as he was about to be eliminated during a rose ceremony, Bibiana picked Colton over Wills on BiP and Twitter was left feeling super conflicted about it.
Wills was one of the most popular contestants last season on The Bachelorette: charming, great wardrobe, hilarious reaction shots, sexy/nerdy Harry Potter tattoo, the works. He and Becca weren't a match, but viewers were excited to watch him play the field on BiP. Surely, with a bevy of options, Wills would find his soulmate, right?
An early frontrunner for him seemed to be Bibiana, the weepy but outspoken firecracker from Arie's season of The Bachelor and last February's The Bachelor Winter Games. Bachelor Nation loved her and Wills together but Bibi chose to save Colton — thereby fueling the Tia/Colton drama for untold weeks to come — instead of pursuing something with Wills. As she chose him during the rose ceremony, Bibi said that she wanted to give everyone the chance to get to know the real Colton, and she wanted him to have a real shot in Paradise after the (very fresh) heartbreak he suffered with Becca.
While Bibi and Wills did make a pretty great comedic duo, they are, technically speaking, in Paradise to find love. It would have been nice to watch them crack jokes for the rest of the summer, but if Bibi wasn't genuinely feeling it with him, then she wasn't feeling it. And frankly, if she only chose Colton for her own amusement, that's fair, too! Plenty of Bachelor Nation is invested in how he's feeling after his tumultuous and unexpected breakup with Becca.
For those of you who need a refresher, Colton went on Becca's season of The Bachelorette after having briefly dated Tia, a good friend of hers and a fellow alum from Arie's season of The Bachelor. Colton came clean about their mutual connection right away, and Becca obviously looked for Tia's blessing when she came on the show for a visit. Tia said she was cool with it, Colton assured Becca he was there for her, and everything seemed copacetic after that. Colton even made it all the way to hometowns.
But then, Tia realized she'd been harboring feelings for Colton all along. She told Becca how she was feeling — but only after Becca and Colton got super invested in each other. It seemed like there were some additional factors that went into her decision, but Becca ultimately chose to break it off with Colton after learning how Tia really felt.
Fast-forward to BiP, and Tia and Colton, both cast members this season, are in each other's dating pools once again. Tia really wanted to rekindle their romance right away, but Colton was more interested in keeping his options open. Once that fell apart, it seemed obvious that Colton was going home, but Bibi swooped in at the last minute with a save. A shady save, perhaps, but a save nonetheless. Will Colton recover from a surprise appearance by Becca, who literally just dumped him? Who cares, bring back Wills!