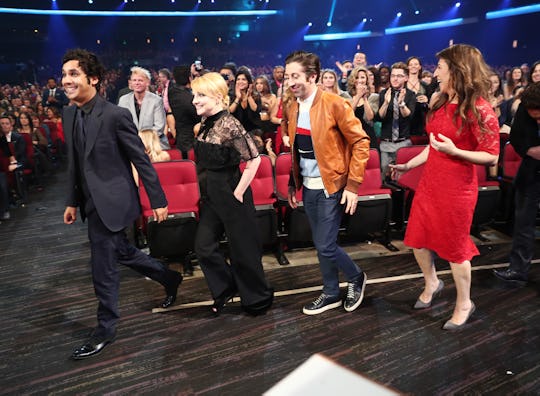 Christopher Polk/Getty Images Entertainment/Getty Images
'Big Bang Theory' Cast Takes Stand On Pay Gap
In a bit of positive news in the midst of the political chaos and international affairs that seem to be constantly barraging the news, equal pay is seeing a victory in Hollywood this week. While original five cast members of CBS's hit sitcom, The Big Bang Theory, all make the same amount of money per episode, both Mayim Bialik and Melissa Rauch are paid significantly less than their costars. In a fight to help Bialik and Rauch make what they deserve, members of the Big Bang Theory cast have reportedly taken pay cuts in order to even the playing field.
Johnny Galecki, Kaley Cuoco, Jim Parsons, Simon Helberg, and Kunal Nayyar all allegedly earn about $1 million per episode. However, Bialik and Rauch only earn about $200,000 for each episode in which they appear, which is obviously less than what the other five make. Variety reports that "the original cast members agreed to take a $100,000 cut in salary for the prospective 11th and 12th seasons to free up $500,000 to fund raises for Bialik and Rauch." As Bialik and Rauch joined the show in its third season, and weren't main cast members until a few seasons ago, it makes sense that their pay would be a little smaller than the other members of the cast. However, such a large disparity between salaries was still a bit shocking, as both Bialik and Rauch have become essential elements of the series in recent years.
Romper has reached out to CBS for confirmation and comment on the matter. Representatives for Bialik and Rauch did not immediately respond to requests for comment.
The Big Bang Theory has been hugely successful, and is already in its 10th season, with talks of an upcoming 11th and 12th season being negotiated as we speak. The show has won numerous awards, including a Golden Globe and several Emmys, and reportedly makes over $1 billion in syndication. However, while the title may be progressive, for a while, the salaries weren't.
Just in 2014, while Cuoco, Galecki, and Parsons were all bumped up to the $1 million range, Helberg and Nayyar only made $750,000. And though the five are all up to the same point as the Friends cast was in their final season, Bialik and Rauch had been left behind until recently. Bialik and Rauch are staples in the sitcom, playing Amy Farrah Fowler and Bernadette Rostenkowski-Wolowitz respectively.
And while the rest of the cast's pay cuts will serve to increase Bialik and Rauch's pay, they still won't be on par with the rest of the show's members. The reported pay cuts will put them at about $450,000 per episode which, while definitely a large sum, still isn't equal to what their colleagues make. But, the gesture remains.
Fight on, Big Bang Theory ladies. Fight on.