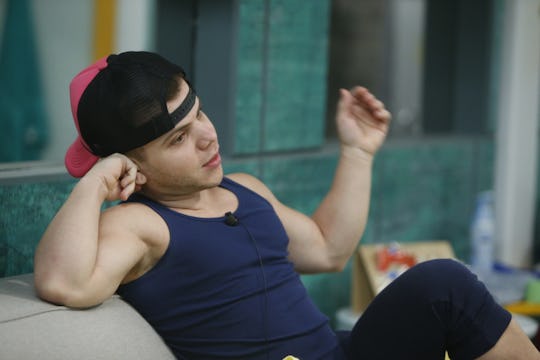 Sonja Flemming/CBS
This 'Big Brother' Contestant Was Seen Sexually Harassing Their Co-Stars
With cameras on the houseguests 24/7, everything that goes down in the Big Brother house is seen by someone, which unfortunately includes contestants' bad behavior. This was made clear when Big Brother contestant JC Mounduix was seen sexually harassing his co-stars on the live feeds.
The events took place on Tuesday, July 2. JC was seen on camera placing the ice cream scooper in or around the privates of some other cast members, including Kaycee Clark, Kaitlyn Herman, and Tyler Crispen, according to TMZ. At one point, JC even told Kaycee to open her vagina because it "feel good." With Kaitlyn, he went under a blanket, trying to get the scooping near her, reportedly against her will. JC then went to Tyler, who covered himself and said, "No." JC was later seen touching Tyler's genitals. This occurred on the same day two other houseguests were captured by the live feed making racially charged statements.
Though none of the houseguests were seen complaining about JC's behavior — at least not yet — fans have taken to Twitter to express their outrage with the situation.
"So JC gets to touch everyone's genitals without consequence," one person tweeted. "That's what we're doing this summer." Another person asked why JC hasn't been removed from the house since there's "video evidence of his inappropriate touching of females." Others weren't all that surprised by JC's actions.
Prior to the start of the season video footage of JC simulating sex with a Minion doll was released online, which already caused a number of fans of the show to be concerned. However, many fans were able to look past it, but now fans are outraged, wondering why he was allowed into the house. Production has seemingly stepped in though. JC claimed executive producer Allison Grodner talked with him about his behavior in the diary room, but is that enough?
Even if production doesn't boot JC from the house his actions could be bad for his game. If the houseguests do feel uncomfortable around him it's very likely he'll become a target and be sent out the door on the next eviction. However, JC has successfully flown under the radar up to this point. Even despite his actions, almost everyone sees him as just a floater and both sides of the house are hoping to take aims at bigger targets, mainly Swaggy C, Winston, and Angela. Thus, unfortunately, it appears JC could be staying around the house for a while longer, unless the producers actually step in, or if the houseguest truly feel like JC has to go.
For now though, it looks like JC isn't going anywhere. Even if JC no longer touches the houseguests in this way, it should've never happened in the first place, and the fact that there doesn't seem to be any real consequence is concerning. It makes it seem like no one is really safe in the house and the houseguests aren't protected from each other, which isn't how it should be, especially in light of the current #MeToo movement.
It'll be interesting to see how this plays out, and if the production will decide to let any of JC's actions play out on air. If it will be very telling if none of this makes it to the actual show, which will be likely cause even more outrage amongst the fans who have complained about how production edits the show in the past. No matter what happens, JC's actions have now started a conversation about what is and isn't allowed in the house, a conversation that should be pretty straightforward but no longer is. Fans have even tweeted at former houseguests, asking about the rules in the house, though most BB alum are staying out of it.
The only things fans can really do know is wait and see how this will all play out. The most important thing is that all the houseguests feel safe and comfortable in the house and hopefully that happens.
In a statement, CBS said:
Big Brother is a reality show about watching a group of people who have no privacy 24/7 — and capturing every unfiltered moment and conversation in their lives. At times, the houseguests reveal prejudices and exhibit behavior that we do not condone. The producers have addressed two such incidents that were seen recently on the 24/7 online feed. In both cases, those involved have been warned about their inappropriate behavior and offensive comments, as well as future consequences. These events will not be part of any future Big Brother broadcast on CBS.
This post has been updated to reflect the statement from CBS.