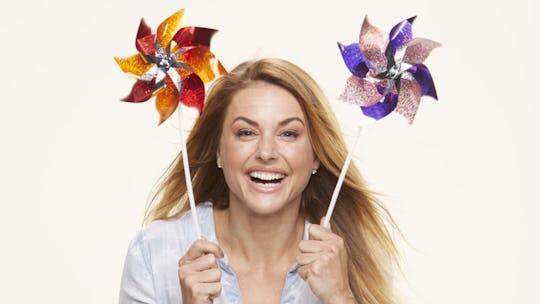 Sonja Flemming/CBS
'Big Brother' Alum Christmas Abbott Gives Birth To Her First Child & It's A Boy!
by Christina Montoya Fiedler
Congrats are in order for a certain Big Brother alum! On Tuesday, Oct. 9, news broke that Christmas Abbott gave birth to a baby boy, according to Entertainment Tonight. In addition to a birth announcement, the new mom also revealed her first child's moniker: Loyal Atticus. Talk about an original name!
Little Loyal Atticus — whom Abbot welcomed with fellow fitness guru and trainer, Benjamin Bunn — was born on Monday night in South Carolina and weighed in at 8 lbs., 15 oz. and measured 22.5 inches long, according to People.
And, for anyone who might be wondering about her unique baby name choice, Abbott has plenty of answers. Spoiler, it has nothing to do with To Kill a Mockingbird. In the same interview with Entertainment Tonight, Abbott explained, "My family has a history of strong and unique names so I wanted to follow suit. I chose his first name Loyal because I believe it will guide him to have strong integrity through his life. It's a reminder that family comes first, which is why it is his first name."
She went on to explain, according to Entertainment Tonight: "I chose his second name Atticus from the Greek educator and philosopher to embrace balance and fairness through understanding. Neither is a family name but I hope he will embrace his name as his own and follow the greatness he can bring to this world through love, understanding, and fair action."
Abbott — who starred on Season 19 of Big Brother, finishing in third place behind runner up Paul Abrahamian and winner Josh Martinez, according to Us Weekly — announced her pregnancy to fans in March, via Instagram, and has keep them in the loop with lots of fun bump posts and tidbits along the way.
Last week, for example, Abbot posted a photo of herself in red dress sitting on the toilet to share an all too relatable pregnancy struggle: frequent visits to the bathroom. "I took this pic bc I've spent A LOT of my time while pregnant running to go pee...again & again & again! Often I would stand up just to have to sit right back down. It's a cruel joke," she captioned the photo, adding: "Take note- when a pregnant woman says 1- she has to pee, she means RIGHT NOW. Holding it isn't an option."
It is not known if Abbott is still in a relationship with Bunn at this point, according to Entertainment Tonight, though they had announced the pregnancy together in a series of now-deleted Instagram posts featuring the pair and with their sonogram photos, according to People.
In one of her last pre-baby Instagram posts, Abbott wrote: "I've been nesting and finalizing ordering all the things I need for him... I know my body is preparing me for him to keep me up all night feeding and loving him but I'd really like a decent night of sleep." She added in the same post that she's become "calmer and happier over the last week anticipating his arrival."
"Even with the anxiety of life and bullsh*t I'm having to deal with, it all is nothing compared to my excitement to meet him, love him, and be his mother," Abbot concluded the post shared in early September.
As for baby Loyal Atticus, Big Brother fans are still waiting for his photo debut. In the meantime, many congrats go out to mama and family.