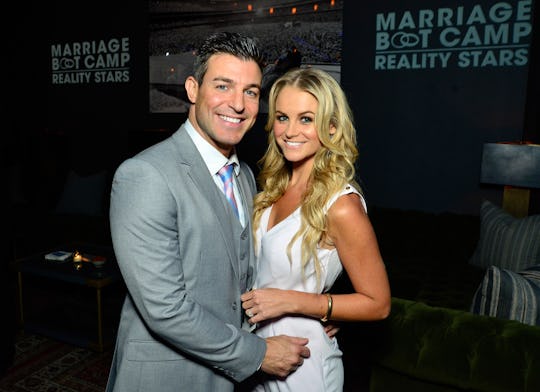 Jerod Harris/Getty Images Entertainment/Getty Images
'Big Brother's Jeff & Jordan Are Expecting Their First Baby & They're Seriously Excited
It seems congratulations are in order for Big Brother alumni Jeff and Jordan: they are expecting their first baby. The couple, who met on the show and married just last month, has been keeping the pregnancy a secret for three months, but they are now happily sharing their news with friends, family, and — well — the world.
Jeff Schroeder and Jordan Lloyd were originally planning to tie the knot in Mexico later this year but their plans changed when Jordan found out she was pregnant. In an interview with Us Weekly, the mom-to-be explained the pregnancy was a complete surprise:
I was not expecting it! My mind was completely on wedding mode and not on baby mode.
But in an instant Jordan's mind shifted from "wedding mode" to "baby mode," according to Us Weekly:
It definitely threw us through a loop, and we were kind of like, 'Well, we need to figure this out, because the baby is going to be born October 20,' and I don't want to be walking down the aisle nine months pregnant...[so Jordan] said, 'Why don't we go on ahead and go to the courthouse, and make it legal?'...'Let's just go on ahead and get married, and then we'll have the baby, and then next year we'll have a wedding ceremony with all of our friends.'
And that is precisely what Jeff and Jordan did on March 15, surrounded by a few close friends (and witnesses) on the first date the Beverly Hills courthouse had available. Afterward, the couple lived "like movie stars" for a day which, as Jeff explained, included a few extravagant meals and a massage, according to Us Weekly:
We went to the Beverly Hills Hotel and had lunch, and then, at night, we went and got massages, and then we went to Mastro's in Malibu for dinner. We lived the life that day.
As for what the couple wants — i.e. a boy or a girl — Jordan is not shy about sharing her opinion:
I hope it's a girl! That's all I want, is a healthy girl...[because] I'm around guys all the time!
In addition to starring in Big Brother, Jeff and Jordan appeared on The Amazing Race and Marriage Boot Camp, and the couple currently hosts their own YouTube show The Road to the Wedding on Jeff and Jordan TV. However, since the wedding is, well, said and done, it looks like the road to the wedding may now be the road to parenthood.
Either way, watching the two parent is sure to be just as adorable as watching their road to marriage.