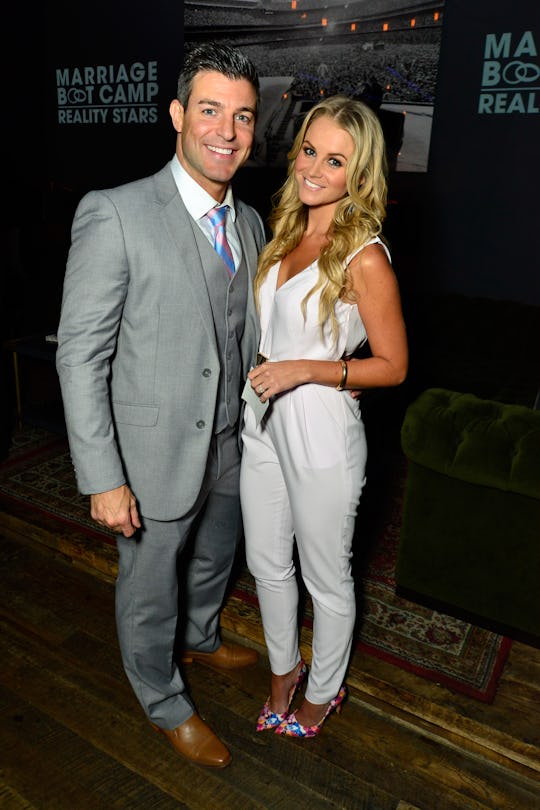 Jerod Harris/Getty Images Entertainment/Getty Images
'Big Brother's Jordan Lloyd Shares A Pregnancy Photo & Admits Pregnancy Can Be Rough
The first 16 weeks may have been a breeze, but in a recent Instagram post, Big Brother's Jordan Lloyd's shared a pregnancy photo and admitted that things are starting to get a little rough. According to Us Weekly, Lloyd captioned her 17-week belly pic by explaining that she was feeling sick, tired, and generally "blah," which is something that plenty of other mothers out there will easily understand. But despite her new found pregnancy-related misery, Lloyd and her husband (and fellow Big Brother alum), Jeff Schroeder, have had a pretty awesome year. The couple told Us Weekly that, after getting engaged in 2014 on Season 16 of Big Brother and setting a date for a wedding in Mexico for September of this year, Lloyd realized she was pregnant and due in October. She said,
It definitely threw us through a loop, and we were kind of like, 'Well, we need to figure this out, because the baby is going to be born October 20,' and I don't want to be walking down the aisle nine months pregnant, and my dress won't fit.
So they decided to skip the Mexico wedding and get hitched at a Los Angeles courthouse in March, opting instead to have a wedding with family and friends the year after the baby arrives. But even though they had to change their plans, Schroeder said it was still a great day:
It actually was pretty nice. I wore my tuxedo that I wore to Lance Bass' wedding, so I had that in the closet to wear; Jordan wore a cute little wedding dress, and afterward...we went to the Beverly Hills Hotel and had lunch.
The reality TV-loving couple (they've also appeared on The Amazing Race and Marriage Bootcamp together), first shared the happy news about their impending arrival (and surprise marriage) with their fans via their YouTube channel, Jeff and Jordan TV. They said that they'd been receiving lots of comments and questions on the status of their nuptials — since they'd previously been documenting their wedding preparations on their channel — and admitted that the reason why they hadn't been updating recently is because, well, they were already married, with a baby on the way.
But with wedding prep discussion off the table, the focus of their videos has now moved to Lloyd's pregnancy, and what life is like for them as parents-to-be. In a recent video, Schroeder shared his thoughts on what it's like to live with a pregnant woman, admitting that it's not exactly easy. The reason why? Mood swings.
I'm going to be 100 percent honest with you. We are having a conversation on the couch, and I'm laughing with my wife. I walk in [the kitchen] to get an apple out of the fridge, and I come back and somebody else is sitting there. I don't know who it is, but they took over my wife's body and they are not looking at me with a friendly look, like we're having a baby together.
But Schroeder also said that, hormones aside, they've had it pretty easy, and that he is thrilled to be expecting a baby with his wife.
I'm loving every minute of it. I'm excited, and each day I learn something new. I just can't wait until that special day when I get to have that feeling that everybody talks about, saying 'you'll know when you see your child.' I'm just looking forward to that day.
Although pregnancy might not be agreeing with Lloyd quite as much as it was in the beginning, it's clear that she and Schroeder are super excited to be newlyweds and parents, and that they will be documenting the rest of their journey in detail via social media for their fans to follow along. And honestly? Given that celeb pregnancies often look glossy and perfect from the outside, it's pretty cool to hear such an honest, funny and down-to-Earth perspective from this sweet couple.