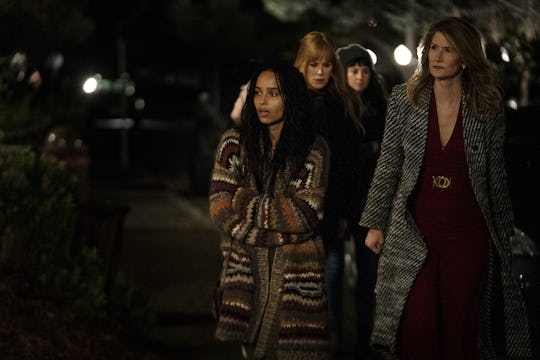 Merie W. Wallace/HBO
'Big Little Lies' Season 3 Theories On What Comes Next For The Monterey Five
After battling their inner demons all season, the Monterey Five finally decided to face their killer secret on the Season 2 finale of Big Little Lies. The series isn't confirmed for another season, but the cliffhanger ending left viewers speculating a potential future storyline. If you're wondering what could possibly come next for the Monterey Five, check out these Big Little Lies Season 3 theories fans are already buzzing about.
Warning: Spoilers ahead for the Big Little Lies Season 2 finale.
Just to be clear, showrunners haven't planned out a third season, but they aren't ruling it out as a possibility. When talking to TV Line, Casey Bloys, President of HBO, said that the network would like to renew the Emmy Award-winning series, but the cast's current work schedule may not allow it. In a red carpet interview with Variety, series writer and creator David E. Kelley noted that he didn't plan out a third season, but he's open to the idea. "I suppose there's always a chance, but that's not the plan," he said. "We wrote this season as if this were the end — I think the audience will find the ending satisfying."
But the cliffhanger ending of the season was far from satisfying, and it left fans wondering what would happen if the series ever returns. The future of Big Little Lies remains questionable, but until its fate is decided, you can mull over these fascinating fan theories for Season 3.