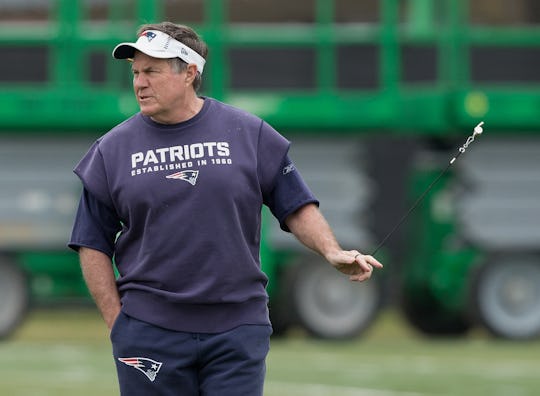 Bob Levey/Getty Images Sport/Getty Images
Bill Belichick Memes Even Non-Fans Will Love
Well, folks. Today is the day. Puppies will be battling it out on our televisions, Donald Trump already gave a totally accurate interview, and oh, yeah, a sport thing will be happening for a while as well. Of course, I know, the Super Bowl is a big deal, people buy their tickets years in advance, hundreds of thousands of dollars come pouring in, and glory will be achieved. It's all great and fine, I guess, but to be completely honest, I'm mainly here for the commercials, the food, and the memes that come out it. Luckily for all of us, the internet is a beautiful thing, and the memes this year have been on point. Especially, it seems, in regards to Bill Belichick. Now, if you're anything like me, you might have had to Google that name after seeing it pop up on Twitter. Discovering that he's is the esteemed head coach of the New England Patriots, though, honestly makes all these Bill Belichick memes and jokes that much more funny.
So, friends, gather round, take a break from all the sports, wings, and beer, and relax. Because these memes are guaranteed to make the world seem a whole lot less messy than it is, even if you're not exactly a football fan:
And while there is so much more to football than just the coaches, players, and score (I'm told, anyway), these memes truly deserve all our attention. Other than halftime with Lady Gaga that is.
Belicheck, who has served as the Patriot's head coach for 17 years now, has also recently come under fire for his vocal support of President Donald Trump. And with Trump predicting today, during his pre-taped interview with Bill O'Reilly, that the Patriots would win the Super Bowl, by eight points to be exact, the internet has truly come alive with all the jokes and memes you need to get your through this game.
But really, between the commercials, the memes, and Lady Gaga, this year's Super Bowl is sure to be historic. No matter which team you're cheering on, though, remember to have a little fun, and, of course, to laugh. These Bill Belicheck memes will help you out with that, for sure, but as I'm being told, a football game can change in the matter of seconds, so make sure you're watching the game... but also, let's be honest, as long as you're stuffing your face, I think you've already won.