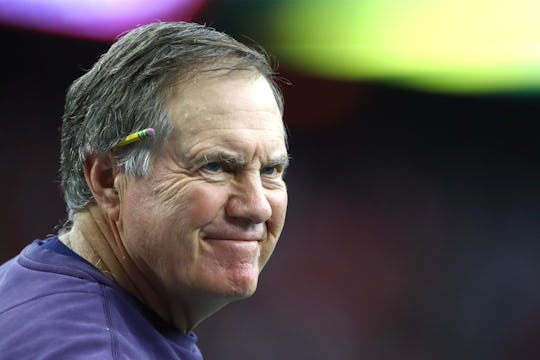 Al Bello/Getty Images Sport/Getty Images
Hilarious Bill Belichick "Super Bowl Face" Memes
Football is obviously the main attraction at Super Bowl 51, but the Bill Belichick Super Bowl face memes making the rounds on social media are proving that the veteran New England Patriots coach is just as entertaining to watch during the opening festivities as he is when the clock is running.
Belichick has been the team's head coach since 2000, according to CNN, and has spent 42 years as a coach in the NFL. This year's Super Bowl is actually the seventh time Belichick has appeared at the Super Bowl with the Patriots — and with star quarterback, Tom Brady. That's a pretty big feat to be sure, but even though he must be excited that his team has made it this far, you wouldn't really know it by looking at his face. Whether he realizes it or not, Belichick's semi-angry facial expressions have pretty much made him the NFL's own version of Grumpy Cat, and honestly, it's kind of awesome. As with all meme-able moments, Twitter users haven't let Belichick's super-unimpressed reaction slide, and the results have been hilarious.
Many of the memes pointed out that it often seems like Belichick has but one, solitary facial expression:
Others couldn't help but make a Lady Gaga joke (because, of course):
And then there were the references to Belichick's RBF (or, Resting Belichick Face, if you will):
Of course, the best part of all of this is that Belichick's face totally makes you think that he couldn't possibly care any less about being the subject of an Internet meme. Which, comes to think of it, just makes his miserable mug even more entertaining.