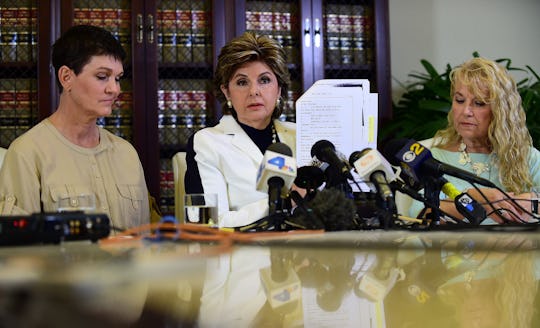 Bill Cosby Accusers Speak Out About His Arrest & They Are All "Grateful & Relieved"
After more than a year of accusations, Bill Cosby faced criminal sexual assault charges Wednesday. Prosecutors in Montgomery County, which is outside of Philadelphia, charged Cosby with three felony charges of aggravated indecent assault, according to CNN. The charges are linked to his 2004 encounter with former Temple University employee Andrea Constrand, who alleges that Cosby drugged and sexually assaulted her. Cosby's accusers have spoken out about his arrest and charges, and most of them have said they're grateful.
Though Cosby's arrest and arraignment all happened within a matter of hours, the allegations are nothing new. More than 50 women have accused Cosby of everything from drugging to rape since November 2014, according to CNN. So, the news the actor and comedian would face criminal charges wasn't too surprising, but it also was, as he — and his attorneys — have maintained his innocence. In a statement Wednesday, Cosby's attorney's called the charged unjustified, according to CNN:
The charge by the Montgomery County District Attorney's Office came as no surprise, filed 12 years after the alleged incident and coming on the heels of a hotly contested election for this county's DA during which this case was made the focal point. Make no mistake, we intend to mount a vigorous defense against this unjustified charge and we expect that Mr. Cosby will be exonerated by a court of law.
Some of Cosby's 50 alleged victims have spoken out since his arrest, and some of them said the news brought tears to their eyes.
Victoria Valentino
Victoria Valentino is a former Playmate. When a friend introduced her to Cosby in the '60s, she was just hoping to get work on his show I Spy. However, Valentino alleged the comedian gave her pills at dinner to "cheer up," after which she felt "stoned" and was raped by Cosby. When asked about Cosby's arrest, Valentino told ABC News that just seeing Cosby's mugshot brought her to tears:
I just never really thought I'd see the day...I can't bear to look at his face, you know, but to see him in a vulnerable position compared to how he made us feel so vulnerable. It's justice. It's just karma.
She went on to say that "that she and the other women who have accused the comedian of misconduct are "elated and grateful," according to ABC:
I can't wait to get together with all the ladies for a celebration party and crack open the champagne.
Patricia Steuer
Aspiring singer Patricia Steuer alleged Cosby drugged her twice: first at his home in Massachusetts and a second time at his penthouse at a casino resort in Atlantic City, according to CNN. (Both instances occurred more than 30 years ago.) When CNN's New Day asked her how she was handling the news, Steuer shared "she was with her husband in a public place when she heard," according to CNN:
I just put my arms around him and stood there and cried.
According to Steuer, "the tears were tears of relief, joy and validation, because people did not believe her for years."
Heidi Thomas
Thomas, who met Cosby in 1984 in Reno, Nevada, for "coaching," has a similar story as Valentino's and many of the other women who have accused Cosby, according to CNN. At the time, she was a 24-year-old aspiring actress and model and she went to Cosby for "coaching." However, she passed out after drinking a glass of wine, and later woke with Cosby next to her in bed, naked, according to CNN.
Thomas told CNN that she saw the news as a victory:
I think I can speak for all of us and say we are thrilled...many of us, myself included, really didn't think he'd see the inside of a courtroom because of his power and his influence and his money...is it going to become something that eventually will send him to prison? Wow. That would be the ultimate victory. [But] I don't know.
Beth Ferrier
Much like Thomas, Ferrier met Bill Cosby in the 80s, when she was a model in Denver — and he was a mentor. However, one night she claims he gave her a drugged cappuccino, according to a CBS affiliate:
I woke up six hours later dumped in the back of my car in the alley.
When she learned of his arraignment yesterday, she told CBS:
Today is still just a good day, regardless of if he is found guilty or not guilty. We're hoping that we get our day in court.
Kaya Thompson
Thompson was a 17-year-old model when she met Cosby in New York in 1988, but it wasn't until a year later that the allegedly unwanted sexual encounter occurred. She told CNN's Don Lemon that she was shocked, "and happy. Prayers answered." She also shared that said she did "sort of a happy dance, and then [she] I called a fellow survivor."
While a trial date has not yet been set, Cosby's next court appearance, a preliminary hearing, is scheduled for January 14. He is currently out on $1 million bail.
Images: Frederic J. Brown/AFP/Getty Images