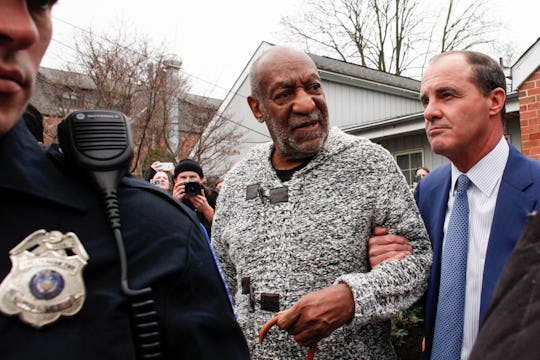 Bill Cosby Attends Arraignment For Sexual Assault Charges & Pays His $1-Million Bail — PHOTOS
Years of accusations are catching up with Bill Cosby. On Wednesday, USA Today reported that Bill Cosby arrived in Pennsylvania for an arraignment on sexual assault charges. A crowd of photographers met his vehicle at the door of the courthouse, but Cosby didn't even spend ten minutes with the magistrate. Photos of Cosby's arraignment in Pennsylvania show that he was not interested in engaging with reporters or answering anyone's questions.
Cosby was charged with second-degree aggravated indecent assault, according to USA Today: "He pleaded not guilty, posted $1 million bail, and turned over his passport as a condition for being released on bail." All of this is happening right before the statute of limitations on the case is set expire in January. The Washington Post reported that the allegations against Cosby involve incidents that supposedly took place in 2004, meaning no felony charges could be filed later than January. Former Temple University employee Andrea Constand claims Cosby drugged her in order to create a paralytic effect; she then says that he sexually assaulted her, according to the Post. It is possible that other Cosby accusers' stories may be used to identify a "pattern of behavior" that may help the prosecution.
Cosby's representatives, Christopher Tayback and Monique Pressley, did not immediately respond to Romper's request for comment, but Cosby previously said that his encounter with Constand was consensual sex.
For women who claim that Cosby assaulted them, the charges filed in Pennsylvania are a positive development. According to NBC Chicago, attorney Gloria Allred held a press conference Wednesday praising the decision to arraign Cosby. She spoke about the impact it would have on a number of the 29 alleged victims she's representing, saying, "seeing him criminally charged and having to face a trial is the best Christmas present that they have ever received," according to NBC Chicago. Cosby and former lawyer John P. Schmitt have maintained that he is innocent, saying the allegations are decades-old and "discredited," according to Entertainment Online:
The fact that they are being repeated does not make them true. Mr. Cosby does not intend to dignify these allegations with any comment.
A number of Twitter users posted photos of Cosby entering the courthouse in Montgomery County on Wednesday:
According to The Washington Post, Cosby's preliminary hearing is scheduled for Jan. 14.
Images: Kena Betancur/AFP/Getty Images