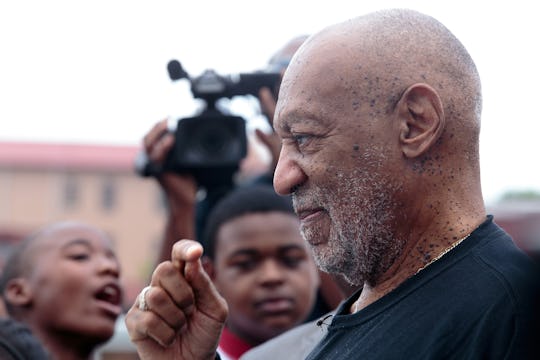 Getty Images
Bill Cosby Is Suing Beverly Johnson, Model Who Accused Him Of Rape
It doesn't look like Bill Cosby is going to let the rape allegations against him go away anytime soon. Last week, he filed a defamation countersuit against seven of his accusers. On Monday he filed another. The Hollywood Reporter reports that Bill Cosby is suing model Beverly Johnson, who claims that Cosby drugged and raped her in the 1980s. The suit specifically takes issue with a chapter in Johnson's memoir, The Face That Changed It All, that recounts an evening Cosby says did not happen, according to The New York Times. The countersuit also states that Johnson's allegations are "false, malicious, opportunistic and defamatory." Cosby's countersuit against accusers Tamara Green, Therese Serignese, Louisa Moritz, Barbara Bowman, Joan Tarshis and Angela Leslie made very similar claims about them, that they are guilty of "malicious, opportunistic and false and defamatory accusations of sexual misconduct against him." All seven of those women filed suit against Cosby in November for defamation. No criminal charges can be brought against Cosby for any of the incidents the women allege occurred because of the statute of limitations for rape in some of the cases, but his accusers can sue him for defamation since Cosby has denied all of their public accusations. In fact, he has denied the stories of over 50 women who have accused him of sexual assault.
Romper reached out to a Johnson's publicist late Tuesday evening and said that although Ms. Johnson is not doing interviews at the moment, she has released the following statement via email:
I am aware of the statements from Bill Cosby. In cases of rape and abuse, abusers will do whatever they can to intimidate and weaken their victims to force them to stop fighting. I ask for your support of all of the victims involved. Thank you.
Romper also reached out to Christopher Tayback, one of the attorneys representing Cosby, but a request for comment was not immediately returned. Monique Pressley, another member of his legal team, issued the following statement about the Johnson countersuit this morning:
Cosby is accusing Johnson of "intentional infliction of emotional distress," according to Pressley's statement and is asking that she release a statement retracting her accusations and that the chapter of her memoir be removed.
Since the women have come forward, Cosby has lost honorary degrees, The Cut reports, and according to Variety, Cosby's suit states that he has lost contracts as well:
Each Counterclaim Defendant induced both NBC and Netflix to postpone or cancel their contracts with Mr. Cosby by engaging in a campaign to assassinate Mr. Cosby's reputation and character.
Cosby has also lost the support of both fans and people in the entertainment industry as the accusations have unfolded, and the countersuits don't seem to be helping:
The story continues to get more complex as the lawsuits unfold. Hopefully there is way to find justice for everyone involved, but it's unclear whether litigation is the best way to get there.
Image: David A. Smith/Getty Images