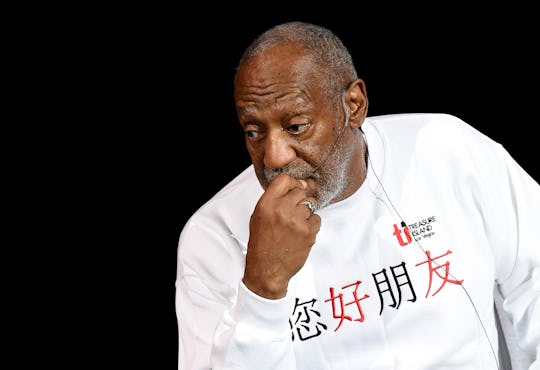 Bill Cosby Will Be Called To Testify In Janice Dickinson Defamation Lawsuit
These days, it seems hard to believe that 24 hours would pass by without a headline about Bill Cosby and his alleged sexual assault of a seemingly endless stream of women. And Monday is no different. Because the day brings news that Cosby has been deposed in Janice Dickinson's defamation lawsuit filed against the Cosby Show star. (Not to mention news that Nicki Minaj's had words about a particularly tasteless Cosby Halloween costume.)
The lawsuit stems from Cosby's denial that he raped Dickinson in 1982 in Lake Tahoe, which the model's lawyer said "branded her a liar." Dickinson was one of the dozens of women who came out in the past year to claim that Cosby assaulted them. In Dickinson's case, the model says the actor gave her a pill and red wine after she complained of menstrual cramps. Claimed Dickinson: "Before I woke up in the morning, the last thing I remember was Bill Cosby in a patchwork robe, dropping his robe and getting on top of me ... And I remember a lot of pain. The next morning I remember waking up with my pajamas off and there was semen in-between my legs." (Cosby's publicist has yet to respond to Romper's request for comment, but Cosby has denied all allegations brought against him.) 
Though Cosby will be called to testify before Nov. 25, we still might not have any answers from the comedian, or any words about the the other 50 accusers who have spoken out against Cosby. That's because Judge Debre Katz Weintraub ruled that he can only be questioned about the rape claim denial related to Dickinson's case. 
Still, if Cosby's 2006 deposition, which was released by The New York Times this year, is any indication, the comedian is sure to come under fire. That deposition revealed that Cosby gave quaaludes to women in the same way that "a person would say, 'Have a drink.'" Cosby was also deposed in October for a molestation suit filed by Judy Huth, who claimed she was assaulted by Cosby as a 15-year-old at the Playboy Mansion in 1974. (What he said during that deposition will not be known until later this year.)
Dickinson's attorney told reporters about the deposition:
"We are absolutely delighted at this victory today. It is going to be a long fight, but this one victory is an important victory. We are up against Mr. Cosby and all his money and power and all his lawyers, and so we are very pleased that the judge, reading from the bench, made a very thorough and detailed decision in our favor." 
Back in November, Marty Singer, Cosby's former lawyer who was also deposed Monday, released the following statement about the allegations:
"Over the last several weeks, decade-old, discredited allegations against Mr. Cosby have resurfaced. The fact that they are being repeated does not make them true. Mr. Cosby does not intend to dignify these allegations with any comment. He would like to thank all his fans for the outpouring of support and assure them that, at age 77, he is doing his best work. There will be no further statement from Mr. Cosby or any of his representatives."
Seems, however, we will indeed get further statements from Cosby. 
Images: Ethan Miller, Mike Windle/Getty