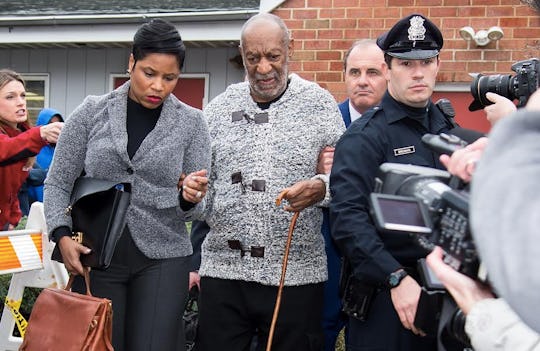 Bill Cosby Won't Face Charges In Two Los Angeles Sexual Assault Cases
In the court of public opinion, Bill Cosby is no longer a lovable TV dad. However, on Wednesday night, the Los Angeles District Attorney declined to charge Cosby in two sexual assault cases that stood against him there, according to ABC. So, why won't the DA charge Cosby? Despite two separate charges filed by Jane Doe 1 and Jane Doe 2, alleging two separate charges of sexual misconduct from 1965 and 2008 respectively, there just isn't enough evidence under sex crime laws to substantiate the claims.
According to ABC News, the DA's office evaluated court documents that alleged Cosby committed forcible rape, misdemeanor sexual battery or misdemeanor and indecent exposure. However, because the statute of limitations has expired on the charges alleged by Jane Doe 1, under the law, the Los Angeles DA can't charge Cosby. Additionally, ABC News reported that there "was no evidence to support charges of sexual assaults by intoxication or of an unconscious victim, attempts to commit such crimes, or assault with intent to commit a sex offense."
Jane Doe #1 told ABC News she is "very disappointed" with the ruling. Her attorney, Gloria Allred said in a statement:
It is very difficult for a person who alleges that she is a victim to understand that there are arbitrary time periods set by law and that if allegations are not reported within that time period that it will be too late for a prosecutor to pursue them even if a prosecutor believes that there is sufficient evidence to prove that case beyond a reasonable doubt.
As for charges filed by Jane Doe 2, who was identified in court documents as Chloe Goins, two of the potential misdemeanor offenses — sexual battery and misdemeanor indecent exposure — occurred in 2008 and could not be prosecuted under the statute of limitations in California, according to USA Today. (The statute of limitations there is shorter for misdemeanor offenses.)
The DA did not find sufficient evidence to support her allegations that Cosby drugged and molested her at the Playboy Mansion when she was 18. Those allegations would have been pursued as sexual battery by restraint, sexual assault by intoxication, and assault with intent to commit a sex offense, according to USA Today. Her attorney, Spencer Kuvin said he was disheartened by the ruling and told ABC News that the burden of proof set by the prosecution was just extremely high. He has filed a civil suit against Cosby, which might be affected by evidence brought to light by the DA's investigation into Goins' allegations, he told ABC News:
This criminal investigation did reveal some very important evidence. Most importantly, it uncovered documentary proof that Mr. Cosby was at the Playboy Mansion in early 2008, a time when Ms. Goins was under eighteen years old.
Cosby's attorney Christopher Tayback said in a statement that the team is satisfied with the ruling, according to CNN:
We are satisfied that the Los Angeles DA's office fully and fairly evaluated all the facts and evidence, and came to the right conclusion.
In a separate case stemming from a 2004 incident in Pennsylvania, Cosby faces charges of aggravated indecent assault. He is out on $1 million bail, and will go to trial in late January. It is perhaps one of the only cases in which he could face charges, though he's been accused of some form of sexual assault by more than 60 women, according to USA Today. In regards to that charge, filed by former Temple University employee Andrea Constrand, Cosby has maintained his innocence. His lawyer Monique Pressley issued the following statement after his arrest last week, according to Us Weekly:
The charge by the Montgomery County District Attorney's office came as no surprise. Filed 12 years after the alleged incident and coming on the heels of a hotly contested election for this county's DA during which this case was made the focal point. Make no mistake, we intend to mount a vigorous defense against this unjustified charge and we expect that Mr. Cosby will be exonerated by a court of law.
Images: Gilbert Carrasquillo; William Thomas Cain/WireImage/Getty Images