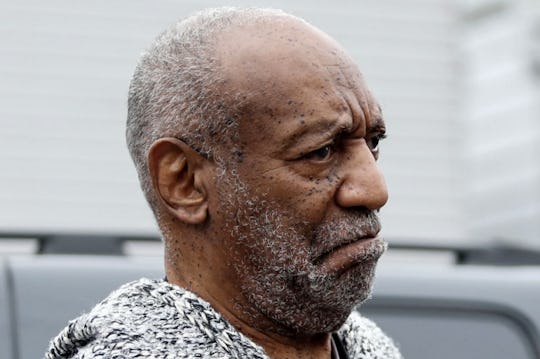 Bill Cosby's Lawyer Calls Charges "Unjustified" & Says Comedian Will Be "Exonerated"
Wednesday in Elkins Park, Penn., Bill Cosby was arraigned on a second-degree felony charge of aggravated indecent assault by the Montgomery County District Attorney's Office. Andrea Constand, a former Temple University staffer, claims the comedian allegedly drugged and assaulted her in 2004. Cosby's attorney responded to the sexual assault charge with a statement released to US Weekly, calling the comedian's arrest "unjustified." Cosby, now 78, was charged a month before the 12-year statute of limitations mandated for sexual assault cases by Pennsylvania law expires in the Constand case, according to US Weekly. Cosby posted $100,000 (10 percent of his $1 million bail), took a mug shot, and turned over his passport during his trip to court. He arrived with two handlers and was photographed using a cane. Cosby didn't address reporters, and appeared to stumble, TMZ reported. Romper reached out to Cosby's team for comment Wednesday but did not immediately hear back.
Cosby's attorney, Washington D.C.-based Monique Pressley, said in a statement to US Weekly Wednesday:
Filed 12 years after the alleged incident and coming on the heels of a hotly contested election for this county's DA during which this case was made the focal point. Make no mistake, we intend to mount a vigorous defense against this unjustified charge and we expect that Mr. Cosby will be exonerated by a court of law.
In a press conference Wednesday morning, Montgomery County First Assistant District Attorney Kevin Steele said, "Reopening the case was not a question. Rather, reopening this case was our duty."
Earlier in December, Cosby's lawyers filed a defamation lawsuit against seven of his accusers, calling them, "malicious, opportunistic, false, and defamatory." Gloria Alred, an attorney for 29 of the alleged victims, told MSNBC Tuesday that she is pleased with the judge's decision for $1 million in bail announced in Wednesday's arraignment and that she's "never seen anything like this."
Cultural critics like Jessica Valenti, point out that even though over 50 women have come forward accusing Cosby of sexual assault and rape, conviction is by no means certain. Slate's Christina Cauterucci argued that Cosby's arrest is meaningful even in light of how the accusations have already affected his career.
Cauterucci also wrote that "Constand's case could be the one of the easiest to argue and win out of all the allegations made against Cosby" because Constand is gay and was in a relationship with a woman at the time of the alleged assault. In a 2005 deposition in a civil suit Constand filed against him, Cosby claimed that their sexual encounter was consensual. The statute of limitations has past for the other alleged assaults women have accused Cosby of committing.
Images: Kena Betancur/AFP/Getty Images (2);