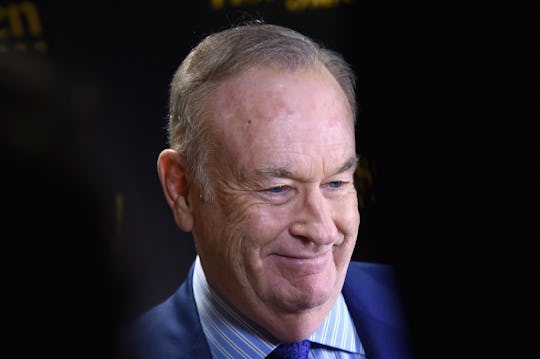 Ilya S. Savenok/Getty Images Entertainment/Getty Images
Bill O'Reilly Says Olympic Victories Prove That Racism Is Not A Thing Anymore
The 2016 Rio Olympics have come and gone, scandals and successes included. Team USA was diverse and successful — so of course, because of this, TV pundit Bill O'Reilly says Olympic victories prove racism is nonexistent. Or at least, that it's not a thing anymore.
O'Reilly was seemingly referencing the fact that non-white American athletes like Simone Biles were honored by carrying the American flag at the closing ceremony in addition to being decorated with four gold medals. Or that Simone Manuel was the first African American woman to win two gold medals and one silver in individual swimming competitions. Ibtihaj Mohammed competed for the U.S. in a hijab. Dalilah Muhammad was the first U.S. woman to win the gold in 400 meter hurdles. The list goes on and on, and those were just the diverse women who were winners.
Team USA looks — sort of, if you squint a little bit — like America. Medal winners or not. But when Bill O'Reilly tweets, "US dominates Olympics - how can this be if we are a terrible country that persecutes minorities? Press is deceiving world about the US -BO'R," he's sending a really twisted message, at best. (And at worst, it's a hugely ignorant statement that refuses to acknowledge the many, many incidences of discrimination that have peppered this year alone.)
Although there are many kinds of faces on Team USA, winners or not, that image doesn't negate the race divide in the country. It doesn't negate the fact that African American men and women are consistently, pretty systematically, profiled and discriminated against in their every day lives in major cities. It doesn't negate the fact that there is a Republican nominee for president that thinks Mexican immigrants are all rapists and drug dealers. Or that Muslims need to be under surveillance or barred entry into the country.
It doesn't negate the fact that violence against our LGBTQ community is something that happens every day. Or, even, at the seemingly most banal level, that women of all races are still not guaranteed equal pay for equal work.
Bill O'Reilly sounds more than a little jingoistic equating the fact that many American athletes are gold medal winners — personal hardships or not — to overall equality for all people in America. America is not equal, even if our Olympic athletes are (sort of). Yes, that they can compete fairly is a testament to progress in American thinking, but it's not the end of the fight for equality.
America won 121 medals overall, the most of all the countries that made it to Rio. That's awesome and everyone who cares should be super proud. But using those wins as an excuse to say that racism or persecution of any sort doesn't exist in America, in 2016, is dead wrong. Here's some pundit-like context: Just after World War II, at the 1936 Olympics, Germany dominated in medal wins. That's not a pretty comparison, but it's worth thinking about when it comes to what a country's Olympic medals mean and how that relates to a nation's official stance about human rights. Nothing.
Bill, take a chill pill. It's cool to be excited, but that doesn't mean progress is just around the bend.