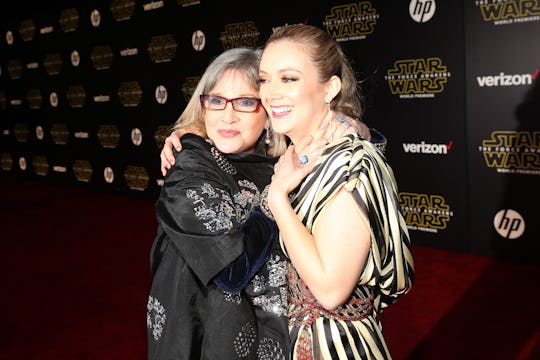 Jesse Grant/Getty Images Entertainment/Getty Images
Billie Lourd Releases Carrie Fisher's Cause Of Death
Carrie Fisher will be remembered for the rest of our time for many things — her humor, her honesty, her legendary portrayal as Leia in the Star Wars film series — to name a few. It is certain that Fisher will be remembered for her life, even after she was taken too soon this past December after suffering from a heart attack on an airplane. Just 7 months after Fisher's death, Fisher fans finally have some answers as to what caused her death. On Friday, Fisher's daughter, Billie Lourd released Carrie Fisher's cause of death and her words about her mother are incredibly poignant.
Update: On Monday, People released official documents from the Los Angeles County coroner's office that found Fisher had cocaine, methadone, ethanol, and opiates in her system when she died. The report said, "The exposure to cocaine took place sometime approximately in the last 72 hours of the sample that was obtained," according to People. Though the coroner's report that was released Friday said Fisher died of sleep apnea and other undetermined causes, the report that People obtained said "the manner of death has been ruled undetermined."
Lourd's words only show that Fisher will be remembered for her life and not what caused her death. Friday evening, the Los Angeles County coroner's office released a statement stating that Fisher died from "sleep apnea and a combination of other factors," according to the Associated Press. The statement also revealed that Fisher had "showed signs of taking multiple drugs," but investigators could not determine if that contributed to the cause of death. Therefore, the cause of her death is listed as "undetermined."
But none of that matters. Lourd, who suffered such a devastating loss, released a statement about the coroner's findings to People shortly after the announcement was made.
Lourd's words are incredibly honest, with Lourd telling People:
My mom battled drug addiction and mental illness her entire life. She ultimately died from it. She was purposefully open in all of her work about the social stigmas surrounding these diseases.
She talked about the shame that torments people and their families confronted by these diseases. I know my Mom, she'd want her death to encourage people to be open about their struggles. Seek help, fight for government funding for mental health programs. Shame and those social stigmas are the enemies of progress to solutions and ultimately a cure. Love you Momby.
Lourd's approach to the news is a major call to action for Fisher fans and mental health advocates to end the stigma of mental illness, acknowledge the side effects of mental illness, like drug use, and bring them into focus.
Lourd is far from wrong about her mother — Fisher was famous for being honest about her struggles with bipolar disorder and substance abuse, and was also a major advocate for those struggling with mental health. Her honesty about her addictions and mental health woes served as a beacon of hope for others.
Carrie Fisher's brother, Todd Fisher, told the Associated Press that he was not surprised by the coroner's findings. "I am not shocked that part of her health was affected by drugs," Fisher said. "If you want to know what killed her, it's all of it."
Both statements prove that Fisher's honesty and advocacy about her disorder was something that the star should be remembered for, rather than what contributed to her death. Fisher's legacy will only highlight her career and her honesty with her struggles — and that is so important.