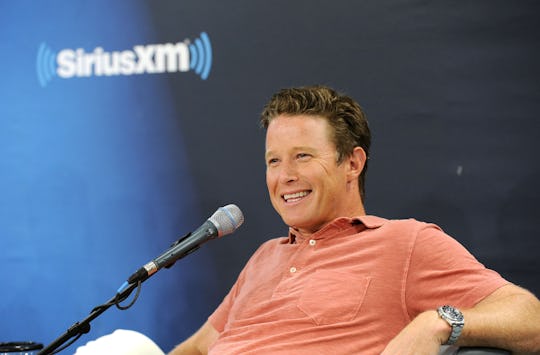 Craig Barritt/Getty Images Entertainment/Getty Images
Billy Bush Has Been Fired From 'Today' After Trump Tape Debacle
The release of the 2005 Access Hollywood tapes hasn't totally halted Republican nominee Donald Trump's campaign all that much, but the man in the now-viral tape with him, Billy Bush, has been fired from Today for laughing along as the real estate mogul joked about using his star power to seduce women. Bush was suspended from his position over the weekend, but after news broke that the former Access Hollywood host had been bragging about the archived audio during the Rio Olympics, it seems that NBC has decided that the seriousness of the situation calls for a major overhaul of how on-air talent conducts themselves both on and off camera.
Update: In a report on Monday Oct. 17, E! News reported that Bush had officially been dismissed as a Today staffer. "Billy Bush will be leaving the Today show's 9 a.m. hour, effective today," Today show senior vice president Noah Oppenheim wrote in a company-wide memo E! obtained. "While he was a new member of the broader Today team, he was a valued colleague and longtime member of the broader NBC family. We wish him success as he goes forward."
News of Bush's dismissal was first reported Tuesday by CNN's Brian Stelter. According to Stelter's sources, the team over at Today has just been "shaking their head" at Bush's role in the leaked tapes. Bush apologized for his comments over the weekend saying, "Obviously I'm embarrassed and ashamed. It's no excuse, but this happened 11 years ago — I was younger, less mature, and acted foolishly in playing along."
Bush's apology was heartfelt, according to People. "People are saying he can't recover," an anonymous source told the magazine. "It's so ironic that the place that got him there — his job on Access Hollywood — is now destroying him," they said. But Bush might have been able to prevent this fallout.
Because it wasn't just that he was laughing along with The Donald and trying to make the star comfortable for a television segment. Bush reportedly knew that the tapes existed and joked about them as far back as this summer, according to The Hollywood Reporter. According to insiders, NBC didn't learn of the tapes until early last week and was consulting with legal counsel when The Washington Post leaked the audio last Friday. If Bush knew about the tapes, remembered the content of the conversation, and didn't disclose the information to the network, it would violate a "morality clause" in his contract, which would have led to his dismissal.
That's likely what happened, but this isn't the first time that Bush has demonstrated questionable reporting practices. During the 2016 summer Olympics in Rio, Bush was the first reporter to interview Ryan Lochte after the American swimmer alleged that a group of men dressed like Brazilian police officers had robbed him and three of his teammates by gunpoint at a gas station. Al Roker, Bush's colleague at Today, took Bush to task for not questioning the Olympian further. Eventually, Lochte sat down with Matt Lauer, another Today host, and gave a full interview to apologize for "exaggerating" the story.
The 2005 Access Hollywood tapes might have just been the final straw for NBC when it came to Bush's career at the network. Maybe Trump has a gig for him on the campaign trail, since the presidential candidate cost him his job.