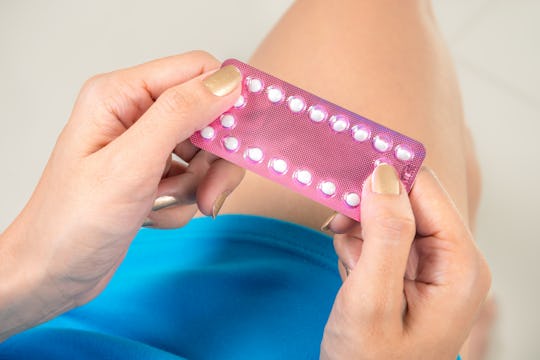 Get Ready For Birth Control That Lasts A Full Calendar Year, Thanks To The FDA
President Donald Trump's administration took major steps in February to limit the provisions of Title X, a federal grant program designed to provide affordable family planning and reproductive health services for low-income and uninsured people. Under Trump's directive, people would have a harder time accessing 18-FDA approved methods of birth control, and many would struggle to find contraceptive-friendly providers. Although it's understandable to have major concerns about the Trump administration's attacks on reproductive rights, rest assured some companies and research organizations are going above and beyond to make birth control accessible and convenient for all. Case in point: The Population Council, a global nonprofit research organization — alongside TherapeuticsMD, a health care company — have developed an FDA-approved birth control that lasts an entire year. And under a licensing agreement between the two parties, the innovative birth control, called Annovera, will be provided to Title X family planning clinics at a "significantly" reduced cost, according to a press release. Talk about a win-win.
It's no secret birth control can be a bit inconvenient and tedious. From remembering to take your birth control pills to finding a contraceptive method that meets your unique set of health needs, the whole thing can be really frustrating. The good news is companies and research groups are developing new forms of birth control all of the time, like Annovera, "the first and only contraceptive that provides an entire year of protection against unintended pregnancy while fully under a woman's control," according to The Population Council's website. Annovera was approved by the FDA on Friday, Aug. 10.
How it works is this: consumers insert Annovera — "a soft, reusable flexible silicone ring in 2 ¼ inches diameter" — into their vaginas and leave it there for 21 days out of the month, according to CNBC. Similarly to other contraceptive rings, Annovera releases hormones like progestin and estrogen to prevent pregnancy. And once the seven days of removal are finished, you can re-insert the same ring back inside of your vagina. Yep, you don't have to replace the ring every month like other products out there.
It's also important to note Annovera doesn't require refrigeration during the seven days when its removed, and people can insert it and remove it independently. Translation: Annovera could be a game changer for people who don't have easy access to health care providers or refrigerated storage.
But the best part about the product might be its affordability for lower-income people — through the Population Council's licensing agreement with TherapeuticsMD, Annovera will be provided at "significantly reduced pricing to federally designated Title X family planning clinics" across the United States.
Jim Sailer, executive director of the Center for Biomedical Research at the Population Council, said in a press release:
This approval is a key first step toward introducing this product globally and better meeting the sexual and reproductive health needs of women, men and young people in the U.S. and around the world. We are grateful to the dozens of researchers who have worked on this product, the donors who have funded its development, and most of all, to the thousands of women who volunteered to participate in clinical trials and made this all possible.
Of course, there are plenty of questions about Annovera, like potential side effects and its success rate in clinical trials.
Based on the results of "three, open label clinical trials with healthy women ranging from 18 to 40 years of age," around "two to four women out of 100 women may get pregnant during the first year they use Annovera," according to the Food and Drug Administration's press release.
As for side effects, the list includes, according to the FDA: "headache/migraine, nausea/vomiting, yeast infections, abdominal pain, dysmenorrhea (painful menstruation), breast tenderness, irregular bleeding, diarrhea and genital itching."
Also, it's best to avoid Annovera if you're over the age of 35 and smoke, or if you have any of the following conditions, according to MD magazine:
A high risk of arterial or venous thrombotic diseases
Current or history of breast cancer or other estrogen- or progestin-sensitive cancer
Liver tumors, acute hepatitis, or severe (decompensated) cirrhosis;
Undiagnosed abnormal uterine bleeding
Hypersensitivity to any of the components of Annovera; and
Use of Hepatitis C drug combinations containing ombitasvir/paritaprevir/ritonavir, with or without dasabuvir.
If you're interested in Annovera, it will probably hit the market sometime in 2019 or 2020. Until then, follow the Population Council's Twitter account for important updates.
Although Annovera might not be right for everyone (it's best to talk to a trusted health care professional before you make any decisions), it sounds like it has the potential to help a lot of people. From Annovera's affordability for people supported under Title X to its convenience, it could influence the world of reproductive rights in a transformative way.