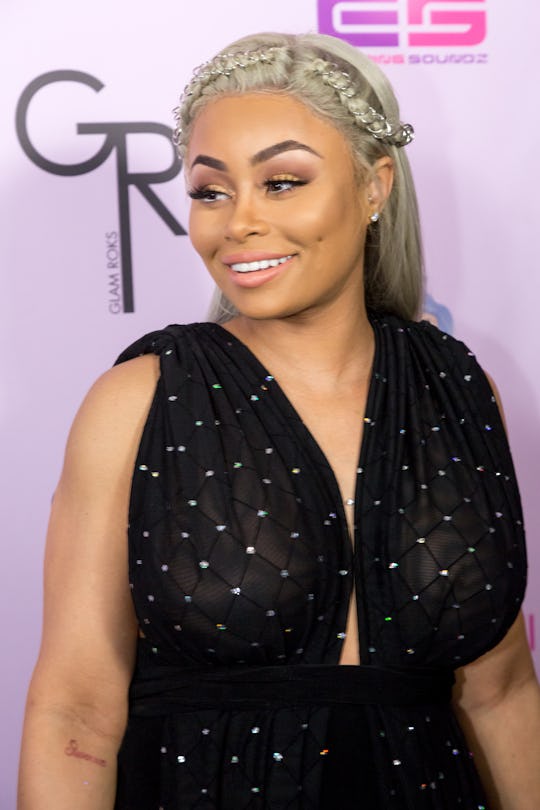 Greg Doherty/Getty Images Entertainment/Getty Images
Blac Chyna Is Having A Girl & Fans Of The Famous Couple Are Celebrating In Kind
During the premiere of E!'s Rob & Chyna Sunday night, Blac Chyna revealed that she was having a girl — and fans and family immediately rejoiced. The couple first revealed that they were pregnant back in May. In a joyous tweet on Sunday night, future sister-in-law Khloé Kardashian congratulated Blac Chyna and fiancé Rob with a gif that simply read "It's a girl!"
"So excited to welcome another little princess to our family," Khloé wrote. "Congrats Rob & Chyna! I love you both!"
Khloé wasn't the only Kardashian to jump on board and send love and happy thoughts either — a few minutes after the reveal, sister/sister-in-law-to-be Kim popped online to post congratulations as well. "Congrats @robkardashian & @BLACCHYNA on your baby girl!!!!!!" she tweeted, posting a photo of a pink-capped pregnancy test with a heart emoji.
"IT'S A GIRL! So happy for Rob and Chyna!" Kardashian matriarch Kris Jenner wrote in an equally sunny tweet. "Can't wait to welcome this new little love bug to the world."
The couple themselves seemed to be ecstatic in their own right, though they remained largely silent on social media, other than to send thanks to fans who were excitedly congratulating them on the announcement.
Initially, it seemed Rob was disappointed about learning the sex of the baby, visibly pausing after the ultrasound tech told the couple the gender. "I really hope it's a boy," he said initially; When the camera panned to his apparently crestfallen face, Blac Chyna replied, "Rob, it's a girl!"
"Oh, that's crazy," he responded. When the tech pushed him, explaining that it was his first, and that a boy would eventually come along, Rob finally relented.
"It's an emotional moment. Me wanting to have a boy, it definitely stems from my dad but I'm sure I'll have the same relationship that I had with my father with my daughter," he told the cameras later, according to E!. "I'm just happy that the baby's healthy and I'm gonna be super happy with a girl."
Thankfully, it seems the couple is now on the same footing — and with the baby's due date coming up quickly (according to Us Weekly, the couple is expecting their little bundle of joy in October), it's good news and blue skies only.