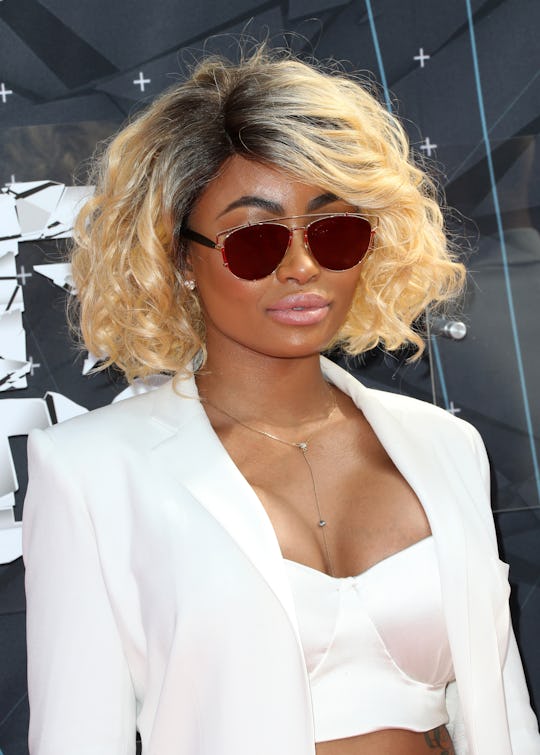 Frederick M. Brown/Getty Images Entertainment/Getty Images
Blac Chyna Is Pregnant & Rob Kardashian Might Have Confirmed The News
According to TMZ, Blac Chyna is pregnant with Rob Kardashian's child. The news is shocking since the couple only got engaged last month, and rumors have swirled about Blac Chyna's relationship with the Kardashian family. Both Rob Kardashian and Blac Chyna seemed to confirm TMZ's news, with each of them posting what looked like a Kimoji of a pink-haired, pregnant Blac Chyna on their Instagram accounts. Considering that they revealed their engagement the same way, I'd take the Kimoji as confirmation enough of the pregnancy news... but Chyna's rep confirmed the news to Us Weekly as well. "She's very happy," her rep said.
Things are about to get much more interesting on Keeping Up with the Kardashians, considering Blac Chyna also has a son with Tyga, who is dating Kylie Jenner, Kardashian's sister. However, everything is reportedly peaceful between Chyna and the family, with Rob Kardashian recently posting a picture of Jenner and Chyna captioned, "So happy my girls finally got to talk and make peace!"
Now that Chyna and Kardashian are having a little one, it's a good thing the family drama has been left in the past. The Kardashians have yet to speak out or tweet on the pregnancy news, but Chyna's baby will be joining a troupe of five Kardashian cousins, along with older brother King.
Of course, fans of Chyna, the Kardashians, and their reality TV show had plenty to say about the news on Twitter. There was a lot of confusion, congratulations, and excitement for the next season of Keeping Up with the Kardashians — and zero interest in hearing President Obama's economic remarks now that the Chyna news was dropped.
It's happy news for the couple, who are reportedly planning to marry this summer, according to Us Weekly. A new Kardashian will be an exciting addition to the family, and though the couple hasn't spoken out about it, their joint Instagram post hints that they're looking forward to their family of three. E! News reported in a live chat that Chyna is due sometime in the fall, possibly September or October.
Other than the happy announcement, the couple has been keeping busy with their business pursuits. Rob Kardashian has been busy running Arthur George, his signature sock line, and Blac Chyna has been growing Lashed Bar, her LA-based beauty line, although it sounds like the two entrepreneurs will have a lot more on their hands pretty soon. Congratulations are in order for the growing family! World, get ready for another Kardashian.