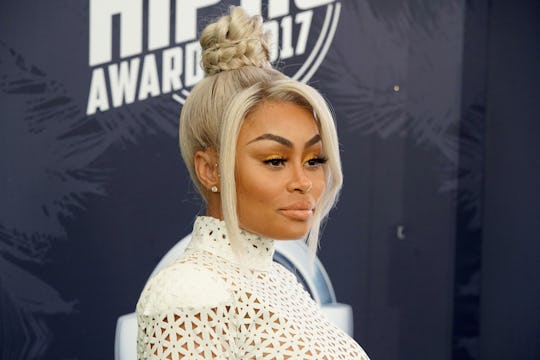 Bennett Raglin/Getty Images Entertainment/Getty Images
Blac Chyna Just Sued The ENTIRE Kardashian Family
While defending the potential of her now-defunct reality show, Blac Chyna has reportedly sued the entire Kardashian family for interfering in what could have been and for attacking her character. According to TMZ, Chyna claims that the Kardashians used their "power and influence over the E! network to kill the second season" of her Keeping Up With The Kardashians spin-off Rob & Chyna, while destroying other vital aspects of her career. Romper has reached out to the Kardashians' representation as well as Chyna's for comment on the matter but has not heard back at this time.
Update: Chyna's attorney Lisa Bloom told Us Weekly on Wednesday that the Kardashians "decided to start a war by trashing her online repeatedly, so it's on … and we are going to vigorously fight for Chyna in this case." Bloom told the outlet that Chyna blames the family for the cancelation of her and Rob's E! reality series, adding:
It's not just she lost a lot of income by not getting season two or all the other seasons that would've followed, it's the endorsement deals, it's the appearances fees, promotion of her products ... This is how reality shows can become very lucrative, and the Kardashian family knows well because they have exploited the economic benefits of reality TV better than anyone … and God bless them for it.
Earlier: Chyna's lawsuit reportedly claims that the network, production company, and cast members were all ready to start shooting season two, but the alleged Kardashian interference prevented this from happening.
The suit insists that Chyna's career ultimately suffered at the hands of the Kardashian clan, citing Rob Kardashian's revenge porn rampage as the primary, harmful incident, People reported on Tuesday. According to Chyna and her lawyers, this event hurt her career irreparably. People obtained the filing, too, which reads:
Rob Kardashian is an abuser intent on destroying Angela White, the mother of his baby, who left him in 2016. In revenge, the Kardashian-Jenner family became media predators, slut-shaming her on social media and killing her hit television show, which had already begun filming a second season.
According to People, the lawsuit also claims that the "powerful, vindictive [Kardashian] family ... damage[d Chyna's] career and professional reputation, which she singlehandedly built from scratch — without the help of a famous last name." It appears that the intended message is that Chyna would have been better off without the Kardashians.
Disturbingly, the suit also alleges that Rob Kardashian physically assaulted Chyna, saying that he "violently knocked her to the ground" on one occasion after ripping a door from its hinges, GossipCop reported. The suit also alleges that Rob has threatened to kill himself multiple times, according to Jezebel.
Unfortunately, claims of this violent nature have been made in the past, on both sides of the conflict. In September of this year, Rob and Kylie Kardashian sued Chyna for "battery, assault, and vandalism," claiming that they "endured several months of injuries" while Chyna also "deliberate[ly] attempt[ed] to extort the Kardashian family for her own monetary gains," according to People.
Whereas the abuse allegations require further investigation, unnamed representatives from E! reported that the Kardashians had nothing to do with the canceling of Chyna's show, People reported. TMZ's network sources countered these allegations by saying that Rob Kardashian and Chyna's splitting up at the beginning of the show's premiere season prevented a potential second season from ever taking place. Additionally, the sources claim that Chyna physically refused to shoot the series with Rob, as she would not want to be in the same room with him, according to TMZ. Thirdly, TMZ reported that the show's disappointing ratings made a second season highly unlikely.
Chyna and Kardashian, who are parents to baby Dream Kardashian, have had a messy relationship, made more complicated by the birth of their daughter. After their year-long relationship, the two had resolved to co-parent Dream. Considering this most recent lawsuit, however, it's likely that that agreement could be off the table, as Chyna and Kardashian's entire family are reportedly not getting along.
The Kardashians are a powerful family — so powerful that it's certainly conceivable that they might have an extensive amount of influence over the E! network. But it's their influence and power that has fans questioning the validity of Chyna's story, as well as her overall career motive. Chyna's involvement with the Kardashians catapulted her career, but at an obvious cost; Rob Kardashian's revenge porn release on social media was abusive, and certainly harmed the mother of his child in more ways than one. Hopefully, all parties — especially the young children affected — can remain safe and civil moving forward.
Watch Romper's new video series, Romper's Doula Diaries:
Check out the entire Romper's Doula Diaries series and other videos on Facebook and the Bustle app across Apple TV, Roku, and Amazon Fire TV.