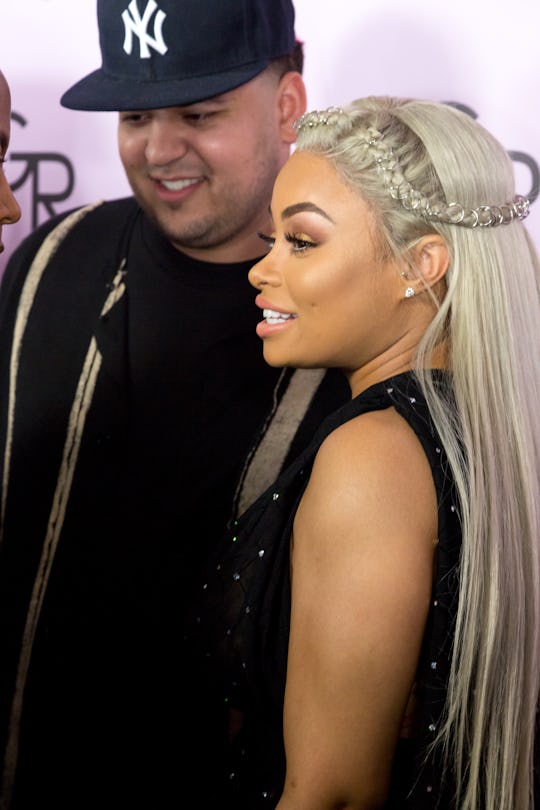 Greg Doherty/Getty Images Entertainment/Getty Images
Blac Chyna & Kris Jenner Visited Rob In A Hospital
It's been up and down for Rob Kardashian and Blac Chyna following the birth of their daughter, Dream, on Nov. 10. Rob recently took to social media saying that Chyna left him, and took the baby with her. On Thursday, TMZ reported that Blac Chyna and Kris Jenner visited a hospital for a family member's medical emergency. Rob is under "medical distress," the site reported, and apparently, Chyna has put their differences aside to support him.
Sources told TMZ Rob checked himself into the hospital on Wednesday night. Rob was diagnosed with diabetes a year ago, and his condition recently took a turn for the worse. Rob's mother, Kris Jenner, arrived at the hospital at 9:45 that night. Chyna arrived later, without Dream.
Rob didn't treat his condition seriously right after finding out he had diabetes, and even refused to take insulin. He told People that he was "nonstop throwing up" and that he felt like he "was going to die." Rob also told People that he was addicted to sugar, and was able to turn around the way he ate when Chyna offered to cook for him.
Rob even declared he was free of diabetes in an episode of his reality show, Rob & Chyna, after meeting with a nutritionist. But Rob's weight and health have been up and down these past few months. Those close to Rob have been worried about his mental and physical health.
"Rob is still struggling and it makes the family sad," a source told People earlier this month. "He deals with depression, weight issues and low self-esteem, but that's been going on for a long time."
Rob even took to Instagram to apologize to Chyna for being in "an emotional bad place" a week ago, which Chyna put up on her Instagram page. Things may have reached a breaking point after Chyna left Rob and took their daughter. Chyna wrote in an Instagram post that has since been deleted that she left because Rob hasn't been working on his physical and mental health. "I'm done with the situation until he gets help," she wrote, according to Glamour.
Although Rob has faced depression, TMZ is shooting down reports that Rob is being hospitalized because of mental issues. A different unnamed source told Us Weekly that Rob is in the hospital because he suffered a diabetic attack.
"He's been so stressed out so [he's] not taking care of himself or eating right," the source said. "Stress affects his diabetes."
Diabetic attacks can lead to several scary symptoms, including dizziness, fatigue, nausea and vomiting. Hopefully, Rob will be released from the hospital quickly — and more importantly, will be able to figure out what he needs to do to stay healthy.