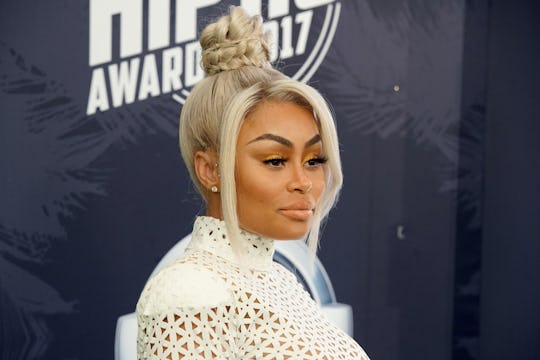 Bennett Raglin/Getty Images Entertainment/Getty Images
Blac Chyna Reportedly Drops Lawsuit Against The Kardashian Sisters — Except Kim
Back in September, the drama for the Kardashian-Jenner family was at an all-time high, complete with pregnancy rumors and a lawsuit to boot. But now, according to TMZ, Blac Chyna has reportedly dropped her lawsuit against the Kardashian-Jenner sisters. Well, except for Kim Kardashian. According to a new report from TMZ, "Chyna is filing to remove Khloe, Kourtney, Kendall and Kylie from the legal battle, where she's accusing the fam of getting her show canceled."
"We recently filed an amended complaint to narrow the issues and parties in the case, which is about slut shaming, revenge porn, and killing Chyna's show after she broke up with Rob. We will continue to aggressively fight for Chyna's rights as the case proceeds," Lisa Bloom, Chyna's attorney, told Romper in a statement, which did not address why Chyna dropped certain sisters from the lawsuit.
But, according to TMZ, Chyna is still reportedly pursuing legal action against her ex, Rob Kardashian, his mother, Kris Jenner, and his sister Kim. Romper has reached out to representatives for Rob, Kris, and Kim, but did not receive an immediate response.
For reference, back In July, Rob made accusations toward Chyna and posted several explicit images of her on his Instagram account, which was eventually shut down by the app, as Entertainment Tonight reported.
Chyna and Kardashian have long had a tumultuous relationship and many fans thought all of that was coming to a halt when the couple's custody battle came to an end in September, but that wasn't the case. According to TMZ, the two — who were previously engaged — reportedly made an agreement that Rob would pay "Chyna $20k a month, and she agreed in return to drop her domestic violence allegations."
Those allegations, according to TMZ, involved Chyna claiming that Kardashian physically and mentally abused her. Chyna also alleged that there was a time when Kardashian was "aggressively shoving me by the side of my arm and hitting me on the thigh," TMZ reported. But, those charges were reportedly dropped when the exes came to a custody agreement. This latest legal development is in regards to a completely different lawsuit.
This specific case is about Chyna alleging that the Kardashian-Jenner family is behind her and her ex's show, Rob & Chyna being canceled. However, before Chyna allegedly removed all the sisters except Kim from the case, a source revealed that the family wasn't exactly worried about the charges. An anonymous source told Us Weekly back in October:
The family is not concerned about Chyna or this lawsuit. The family is trying to stay out of this because they are stuck with Chyna because she's Dream's mom. She'll be involved with them for life. The family is only concerned for Dream and they are disappointed that this could affect Dream's childhood. Dream shouldn't be used as a pawn for money.
The suit also alleges, according to Us Weekly, that the Kardashian-Jenner family used their "power and influence over the E! network to kill the second season," of Rob & Chyna and are accused of having "demand the network not proceed with a second season of Rob & Chyna."
It's unclear when the 29-year-old's lawsuit will actually go to court, or if any other members of the famous family will be added to it later on. According to TMZ, Chyna's amended lawsuit notes "Does 1-100" as defendants, which is "legal speak for people you could later add to the lawsuit." With that in mind, anything is still possible and this legal battle is far from over.
Check out Romper's new video series, Romper's Doula Diaries:
Watch full episodes of Romper's Doula Diaries on Facebook Watch.