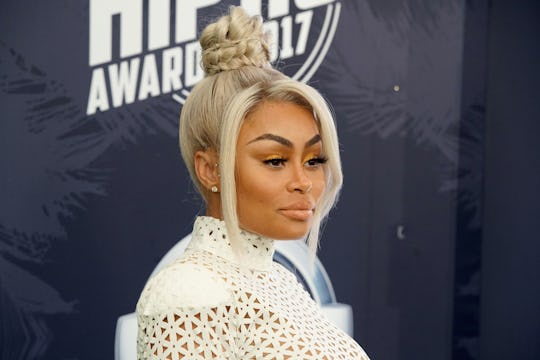 Bennett Raglin/Getty Images Entertainment/Getty Images
Blac Chyna Responds To An Incident Involving A Stranger Allegedly Touching Her Daughter
Blac Chyna is no stranger to controversy. From Chyna's very public feud with the Kardashian family to her IDGAF attitude on social media, it seems like the mom-of-two is always in the press for some reason or another. And on Sunday, reports surfaced that she allegedly got into a scuffle at Six Flags with Dream Kardashian, 1, and King Cairo, 5, in tow. But what exactly spurred the dramatic incident? As the Los Angeles Times reported, Blac Chyna allegedly got into a fight over Dream Kardashian's safety. Romper's request for comment from Chyna's rep was not immediately returned. Although this news is incredibly confusing (and even a bit alarming), Chyna responded to the allegations on Monday via Instagram to clear the air. By the sound of it, Chyna is one protective mama.
To celebrate Easter on Sunday, Chyna decided to take Dream and King on a fun excursion to Six Flags in Valencia, California. And throughout the exciting day, she shared a few snaps of her kiddos to Instagram, including a video of King and Dream snuggling up together in a pink plastic stroller.
Interestingly enough, the pink stroller is an important detail in this story because it's what Blac Chyna allegedly used as a "weapon" in her fight with a fellow park goer.
So, what exactly went down here?
The details are a tad murky, but what reportedly happened in the confrontation is this: Chyna allegedly fought a woman at the park who tried to touch Dream without permission, according to the Daily Mail. The fight escalated when Chyna supposedly wielded the pink stroller in the woman's direction — and at this point someone called Rob Kardashian's ex a "hood rat," according to TMZ.
Luckily, Dream and King didn't witness the supposed melee thanks to their quick-thinking nanny, and security guards at the park were able to break up the fight before it got physical, according to TMZ. Six Flags did not immediately respond to Romper's request for comment on the alleged incident.
It's clear, however, that Chyna didn't take kindly to the stranger allegedly touching Dream's hand. Chyna took to Snapchat to address the report of the disagreement at the park. She said, "Being famous is hard enough dealing with scrutiny but when someone feels comfortable to come and touch your child it's a whole other story," Chyna said of the alleged incident on Sunday night. "I do not condone violence nor am I a violent person but shout out to all of the amazing mothers out there that will protect their children at all cost. Love, King and Dreams mommy."
Following Chyna's statement, some people took to Twitter to agree with her protective take.
Others were less understanding of her alleged actions and called out the mom for resorting to violence.
No matter where your opinions fall, most people can agree that being a celebrity parent can be pretty terrifying at times, and this situation certainly demonstrates that. From dealing with overzealous fans to guarding your kids from the paparazzi, there are *a lot* of things to worry about when you're a parent in the public eye. And one can only hope that people will be more respectful of famous children's privacy going forward — even if they have the best of intentions.
Check out Romper's new video series, Bearing The Motherload, where disagreeing parents from different sides of an issue sit down with a mediator and talk about how to support (and not judge) each other's parenting perspectives. New episodes air Mondays on Facebook.
This article was originally published on