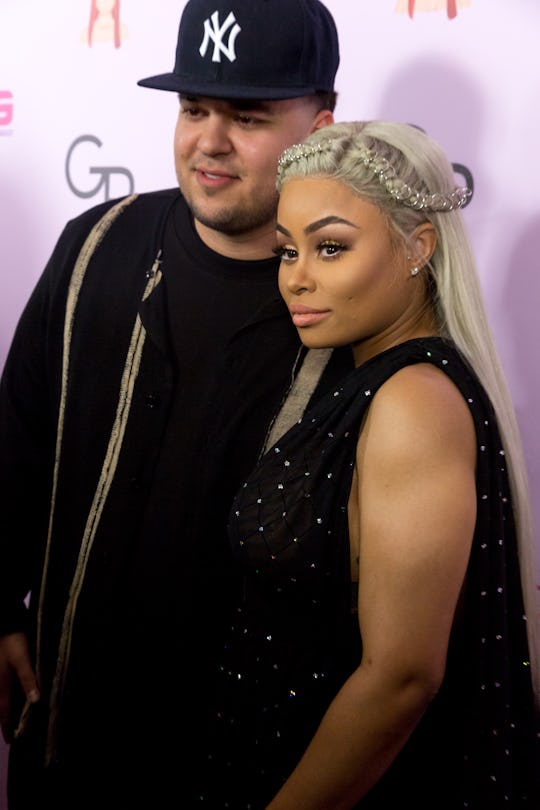 Greg Doherty/Getty Images Entertainment/Getty Images
Blac Chyna & Rob Kardashian Ring in 2017 Together
Rob Kardashian's relationship with Blac Chyna has been majorly rocky and full of drama as of late, but their latest Snapchat updates seem to suggest they've put aside their differences to start the new year on the right foot. According to Us Weekly, Black Chyna and Rob Kardashian celebrated New Year's Eve together, having dinner together with friends as the clock struck midnight. And it looks as though the couple — who welcomed their daughter, Dream, together back in November — might even once again be considering tying the knot: in the Snapchat clips, Blac Chyna can be seen wearing her engagement ring.
Coming from a family famous in part for sharing the intimate details of their lives on reality television, it's a particularly impressive accomplishment to be the Kardashian with the most drama-filled romantic life, but over the past few weeks, Rob definitely seems to have won that title. On Dec. 17, the couple called it quits after a very public feud on social media that ended with Kardashian claiming on Snapchat that Chyna had left him and "took the baby, took the whole nursery we built," according to People. He later alleged that Chyna was keeping him from seeing his daughter, though in a since-deleted post of her own, Chyna wrote that Kardashian "knows where we are," and could visit if he wanted to.
Their initial split doesn't seem to have lasted long though. According to The Daily Mail, the couple reconciled just before Christmas and spent the holiday together as a family. Kardashian even apologized to Chyna on Instagram, calling her "a great mother to our child," and noting that he was "seeking help to deal with my flaws/issues." But that's not all: on Wednesday, Kardashian was briefly hospitalized for complications related to his diabetes — something a source claimed was due to his "terrible diet" as a result of the couple's rocky relationship.
For now, at least, all appears to be well between the two. In the New Year's Eve footage — the first update from Kardashian since his hospitalization — the two can be seen celebrating the beginning of 2017 with the help of a New Year's eye Snapchat filter, according to E! News. And Kardashian also had a little festive fun on Instagram too, posting a cute Christmas-themed video showing him and Chyna, as well as baby dream, as dancing cartoon elves.
So what's next for the couple in 2017? Given their tumultuous past, it's hard to say whether their current happiness is going to last. But through it all, it seems pretty clear that, despite their issues, they are both super devoted to their little girl. And hopefully that's something that won't change, no matter what happens in the year ahead.