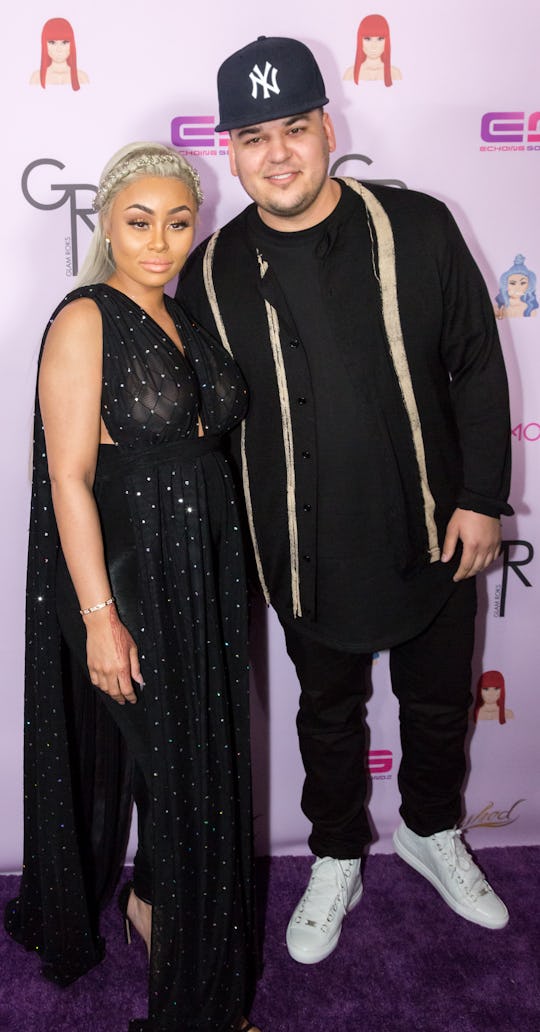 Greg Doherty/Getty Images Entertainment/Getty Images
Blac Chyna & Rob Kardashian Release The First Sneak-Peek At Their New Show
It's a love story tailor made for reality TV. Blac Chyna, former nemesis of the Kardashian ladies, and her whirlwind romance, engagement, and pregnancy with Kardashian brother Rob, has burned up the tabloids and gossip shows priming fans of the famous family for a closer look into their life. On Wednesday, Blac Chyna and Rob Kardashian released the first sneak peek of their new show on Instagram and it already looks like it's going to be fun.
Kardashian shared an image from what looks like a TV camera of the couple sitting in front of a green screen. Rob, 29, looking healthy and happy, is wearing a plain black t-shirt and Blac Chyna, 28, has on a cute, brightly colored, zipped up jacket and is rocking a flawless face of makeup. The two look relaxed, happy, and in love.
The upcoming docu-series' working title, according to E! Online, is simply Rob & Chyna. It will reportedly feature six, hour-long episodes with a special to follow later "celebrating the birth of their first child together," according to E!.
"Very few love stories have created as much pop culture buzz as Rob and Chyna's, and we are thrilled to see Rob in such a happy place," Jeff Olde, Executive Vice President of Original Programming & Development at E!, said. "We are excited to share the next chapter in their relationship."
Here's a little taste of what fans can expect to see in the latest Kardashian spinoff.
Their wedding isn't part of the show, which Us Weekly reported was Kardashian mastermind Kris Jenner's idea. A friend close to the couple told Us, "Kris convinced them to sell the wedding as a separate show."
The two got engaged in April and said they planned to marry in July. After Chyna found out she was pregnant, the date was moved after her due date in October, but Jenner convinced them to stick with the July date, Us reported. That means Chyna will be a very pregnant bride.
Chyna certainly has her hands full with a new man, show, a wedding, and a baby on the way. But it sounds like she couldn't be more thrilled.
Several weeks ago she shared this sweet sonogram image with a caption that sums up just how happy and grateful the mama-to-be is with her new life.
"For a long time I felt like King was going to be an only child," she wrote. "That he was my greatest blessing and we were gonna live happily ever after together Just the 2 of us, I was no longer looking for love because I thought I had all that I needed. We needed. But look at God ! Here I am Engaged to be married to one of the greatest men I know who loves King & I unconditionally AND having another bundle of joy! I just want to say Never give up & ALWAYS have faith because fairytales DO come True."
Congratulations to Chyna, Rob, King, and their new baby on the way.